Holborow Lodge, Chalder Lane, Sidlesham, Chichester PO20 7RJ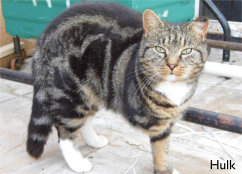 Hello it's me again your out and abouter reporter for the Cat and Rabbit Rescue Centre Hulky Bear. Yes, my staff are at it again getting crazy ideas in their head about doing sponsored fund raising helping us to reach our target to improve the barn (Which I named THE BUMP.) The staff asked me if I had any good ideas mine were just too scary for them (what you don't want to jump out of a plane), if any of my readers can think of anything that I can pass on to them can you please email me on clo@crrc.co.uk with your subject 'message for HULKY BEAR' that way I can pretend the idea was mine. I did think about firing them into the sky in a rocket, but I do need them at work the next day to give us cats our dinner. I would love an email as I have never had one before. I do get post cards when my readers go on holiday. I have had some from all over the world you know as I am very important here. An update from last month I decided to employ Marcus as the administration officer so far he is doing ok and keeping the work up to date. We have a new library assistant looking after our books for sale at the centre. Little Amaya arrived here a couple of weeks ago she was so sad as her owner no longer could look after her and she is elderly so we asked her to help with the book sales, keeps her busy and she loves it when you stop and cuddle her. If you come in to buy some books makes sure you say hello to her. Felt sorry for my friend Solomon this month he had to see the vet for a dental, yuk! He had to stay in for a few days but he was back out today and charging round meowing at us he was so happy to see us again. You have heard of our goat Fuchsia she is so cheeky always playing hide and seek, the other morning the staff arrived at work and she was sitting in the middle of the flowerbed stretched out in the sun with my friend Carlos at her side. Carlos is in charge of security in the car park. That day he moved out of our garden room as the staff gave it a spring clean, all the furniture and the windows were cleaned we had new bedding and lots of new toys so we now have a lovely area again. We are all happily chilling out in waiting for the warmer weather to arrive. Until next month Happy Easter to you all
If you are interested in adopting a cat, kitten, rabbit or guinea pig then please call us here at the centre on 01243 641409 between 9-4pm during the week.
PS: We have a Viewing Day Saturday 22th April 12-2pm. Viewing days are non-appointment days so people thinking of adopting a cat can pop along. Otherwise we re-home 7 days a week by appointment only.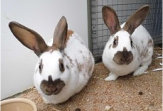 Pets of the Month Mazarin & Semla
This April, we would like to introduce out Pet of the Month as two special Easter Bunnies. Mazarin and her sister Semla are a year old. They arrived here at the Centre in October 2016 after suffering from neglect and not being fed correctly. When they arrived they were both very underweight and in poor condition. Since being here they have had lots of love and correct feeding by the staff. They are looking much better and are ready to find their forever home. At the moment due to the lack of handling, we are a little scared and not sure of being picked up but will soon enjoy being handled.
If you think you can offer Mazarin and Semla the new home they so desperately deserve, please do not hesitate to contact us here at the Centre.