Good day from your favourite Out and About Reporter at the Cat and Rabbit Rescue Centre.
It's been a busy month you may have heard me on the local radio station Spirit FM on 'War of the Works' over 5 days we had to answer general knowledge questions against another local team. It was a good thing I came in to help answer questions without me we would not have won. I surprised myself how clever I am! We are looking forward to our prize and I am now studying extremely hard for any future competitions. I hope cat food pizza is on the menu.
Sadly my friend Desmond passed away recently he wasn't an out and abouter, being 21 years old he lived in the house during the day he was in charge of administration work and helping our liaison manager Claire in the office. We will all miss him. I am arranging interviews among the others here Marcus has said to me he thinks he would like to try for the role, that's if he will stop getting all the attention when we have visitors at the centre I know he is a big ball of fluff but I am the most handsome.
We have a new friend joined us a couple of weeks ago Arlo decided he wanted to try life with us. He has fitted in really well struts about like he's been here forever. I of course showed him the ropes and where the best sun bathing spots are, he spends most of his time watching staff working, making sure they are busy. That leaves more time for me to study, just there under the tree. Its hard work learning all these facts I just might have a nap, till next time, have a great month.
If you are interested in adopting a cat, kitten, rabbit or guinea pig then please call us here at the centre on 01243 641409.
Malinda & Madelina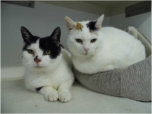 This month we would like to introduce you to two wonderful sisters who are desperate to find a new home maybe you could be the one to give them amazing ending. Malinda is a white and torti female and her sister Madelina is white and black. They are both 15 years old looking for a new loving home together. They came to the Centre on the 12th November 2016 as their owners could no longer keep them at their home. They are very special girls and it is important to explain why. Madelina has cancer on her nose and it is quite serious she may not have too long left in this world. Malinda has cancer on her ears, which is not too bad at the moment. This is why we need a new home for these lovely girls soon to give them as much time as possible being loved by their new owners. Madelina is on full foster so all her vet problems relating to her treatment of cancer are covered by The Centre, Malinda is on part foster which means any problems with her ears she can come back here to see the vet. They are both lovely girls that enjoy cuddles. Would anyone be willing to please take a chance on them? If you think you can offer Malinda and Madelina the new home they so desperately deserve, please do not hesitate to contact us here at the Centre.
PS: We have a Viewing Day Saturday 25th March 12-2pm. Viewing days are non-appointment days so people thinking of adopting a cat can pop along. Otherwise we re-home 7 days a week by appointment only.