Holborow Lodge, Chalder Lane, Sidlesham, W. Sussex PO20 7RJ Tel: 01243 641409 Reg. Charity no. 1010000
Email: info@crrc.co.uk www.crrc.co.uk - Also find us on facebook at: www.facebook.com/catandrabbitrescuecentre
Good day to everyone from your favourite out and about reporter Hulky Bear at the Cat and Rabbit Rescue. It's that time of year again and here at the centre I am busy supervising decorations and making sure all my friends here are looked after during the holiday season. The staff and our lovely team of volunteers don't take time off but they make sure we all feel special giving us lots of love.
With the weather turning colder we have been moving all the Guinea pigs and rabbits to warmer accommodation it's a big job but moving those hutches keeps me looking in shape before I start eating those treats over the holidays.
If you are looking for a gift for someone special some of my friends and I are available to sponsor for just £15 a year, we would love to meet you. £5 will feed a cat for 5 days, £15 will feed three cats for 5 days or £40 will feed forty of our rabbits fresh vegetables for a week. If you are interested in adopting a cat, kitten, rabbit or guinea pig then please call us here at the centre on 01243 641409.
Spira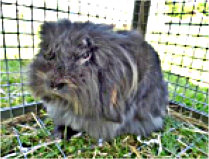 This issue we would like you to meet the very cheeky Spira. She is 2 years old and been living at The Centre since the 14th January 2016 her original owner could no longer cope looking after her. When she arrived she came in with her three sons, these have now all found homes. Poor Spira couldn't be homed at the time as she was pregnant when she arrived and gave birth to six babies. She is now desperately looking to find a loving home with a male bunny she can bond with. She is on our foster care scheme as she does have sore eyes at times. This means the Centre will provide you with some eye drops to give to her and our vet will look after her eyes at no cost to you. As Spira is very fluffy she does require grooming and will need an owner who will be able to give her the attention she needs. If you think you can offer Spira the new home she so desperately deserves, please do not hesitate to contact us here at the Centre.
We have a Viewing Day Saturday 28th January 12-2pm. Viewing days are non-appointment days so people thinking of adopting a cat can pop along. Otherwise we re-home 7 days a week by appointment only. Please note there is no viewing day in December.