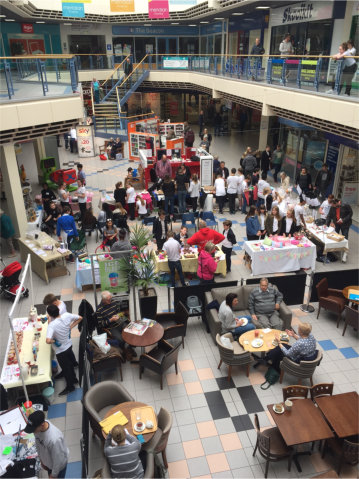 The Business Enterprise Challenge was back in Meridian Shopping Centre again this year. This was the Fifth year the event has been held at the centre and the high level of Commitment, Product design, Display and Staff knowledge shown by all 17 teams on the day and as ever was still as outstanding as in previous years.
Team TaDah on the day were the worthy winners this year of the prestigious Meridian Trading Shield awarded to what was judged to be the Best Presented Team/Stall and Product on the day by Rob Fryer Meridian (Centre Manager), Helen Mullen (Manager W H Smith) and Caroline Davis (Boswells Café Manager).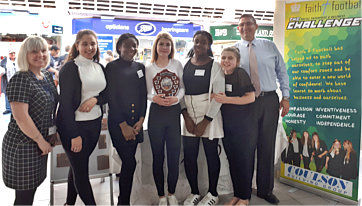 Meridian would like to thank all our customers for supporting this event Including the Teams and Charity for their hard work in making the whole event such an annual success, we look forward to seeing you again in 2018!
For more information about the charity and event please take a look at their website, you could even look to participate in next year's event.
On Saturday 29th April 2017 the Faith & Football charity took over the Havant Meridian Shopping Centre with 80 school students from their Social Enterprise & Business Challenge setting up their stalls to promote their business and sell their products! This Challenge has been running for 13 years with over 250 students entering each year from schools in Portsmouth, Aldershot and Cambridge.
The Year 9 students joined the competition from across a number of secondary schools to have the opportunity to run their own business and raise much needed funds for Faith & Football. Each team is given a Faith & Football Business Mentor who supports them weekly throughout the competition. The students raise their own capital, create a company name, strapline and logo, designate team roles and responsibilities and trade for five months learning and developing vital business and life skills along the way!
The businesses range from quality cookies and cupcakes to clothing brands, handmade craft items, bespoke products and more!
Faith & Football created this opportunity to bridge the gap between education and employment and give youngsters the chance to expand their horizons, reach their full potential and help those less fortunate than themselves.
At the end of five months of trading each team of 4 – 6 students submit their final business plan and storyboard to a panel of independent business judges. The winning team is selected and they go on a trip of a lifetime to Goa, India to see first-hand what some of their business profits have supported at the Little Angels Children's Home for special needs children.
Once the competition is complete the students demonstrating great leadership potential are offered a scholarship on the Faith & Football Leadership Academy. A one year programme that trains and equips them to be all they can be!