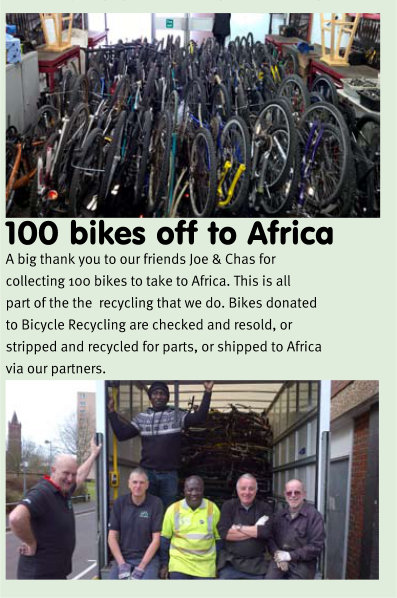 Working in Partnership all year round
Over the past year Bicycle Recycling has supported other organisations both large and small. In this edition are examples of a few:
Sustrans: providing Bike Dr and training staff with industry recognised Velotech Gold qualification.
CTC: developing Bike Maintenance Clubs with school and social housing providers.
British Cycling: linking up with the Ladies only Breeze rides to provide dedicated bike maintenance.
Royal Navy: establishing a new Cycle Hub in Portsmouth Naval Base.
Portsmouth City Council: recently celebrated our 2nd birthday operating the Community Cycle Hub.
Highbury College: co-delivering a full time Level 1 and 2 in Bike Mechanics.
Bicycle Recycling Gosport's makeover
New signage at the Bicycle Recycling Gosport shop emphasises the 'life chances for young people' that Bicycle Recycling provides every day. Whether it is through providing apprenticeships and work experience for local young people, delivering Bike Maintenance Clubs in schools and with those unemployed or full time courses in partnership with Highbury College, Bicycle Recycling is really proud to do what it says and deliver real life chances for young people.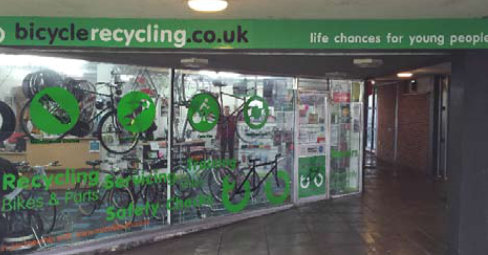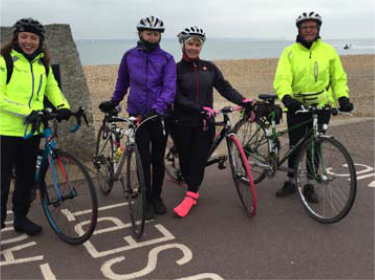 Women only bike rides
Jannine, Bicycle Recycling's Education & Employment Co-ordinator is also qualified to lead Breeze Bike Rides. These guided rides are for women only and offer a fun ride for all abilities along quiet roads and cycle ways, stopping for a cuppa on the way. For more info see Facebook or call Jannine on 023 9260 1441.