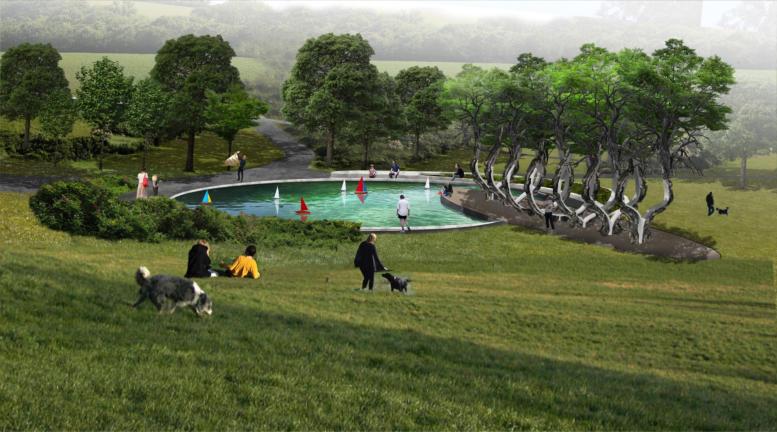 A living sculpture made of steel and growing oak trees will form a centrepiece of the Berewood development, it has been announced.
Winchester City Council, Havant Borough Council and Grainger PLC have together selected an exciting proposal following a competitive design competition.
The winning practice is a London-based collective of art, landscape and architecture professionals called Wayward. They will develop their commission in close collaboration with local residents, arts and heritage organisations and amenity groups, with a view to completing installation by the end of 2016.
Funded by planning contributions from Grainger PLC, the programme aims to create a distinctive identity for the homes at Berewood. The first phase of the programme includes an installation at the entrance or 'Gateway' to the development from Grainger Street and further enhancements for the planned Town Park.
Wayward's proposal, Grow, Grow, Grow Your Boat, is an adventurous project that explores the maritime history of the ancient woodland of the Forest of Bere that surrounds the development. The proposal draws from the integral role of the forest's oak trees in shipbuilding from the 16th to 18th centuries and ties this history to forest schools, natural play, living architecture and sustainable water systems.
Winchester City Council's Cllr Kirk Phillips, who chairs the West of Waterlooville Arts Advisory Panel that selected the artists, said:
"We were delighted with this unique, magical and carefully researched proposal from Wayward. The artworks create intrigue that will lead to a discovery about Berewood's history as well as being inclusive, fun, playful and romantic. Its integral community engagement programme will ensure all the community feel a part of the commission as it develops."
Heather Ring, Founder and Creative Director of Wayward, said:
"We are thrilled to have been selected for this important commission. It presents a remarkable opportunity to create not only a living sculpture, but also a public space and destination that will truly grow with the new community of Berewood."
Place-making and public art agency Futurecity are curating and managing the project on behalf of the West of Waterlooville Arts Advisory Panel, which includes elected district and parish councillors as well as technical officers from each Council.