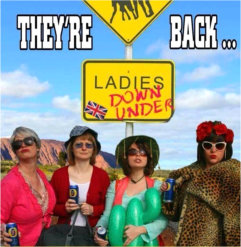 The Spring Arts & Heritage Centre, Havant
Sequels are rare in the world of theatre but Havant based Bench Theatre came up trumps with their performance of the Amanda Whittington comedy about four women who go on a holiday of a lifetime to Australia. The play is a sequel to Lady's Day which was performed by Bench in 2013. The new play picks up with the four main characters, Pearl, Jan, Shelley and Linda, who fresh from a £500,000 win at the horses embark upon an Australian adventure. The characters are strongly defined and well-acted by the amateur cast. Pearl is the mother figure, an older woman who has recently retired from the fish factory where the women had all worked. Shelley is big, brash and bold in her attitude and dress sense. Jan is timid and insecure whilst Linda is down to earth and wants to help everyone.
The play was staged with virtually no scenery, just backdrops indicating a plane or an Australian flag. Things go wrong for the hapless ladies as soon as they arrive in Oz with the non-appearance of Jan's boyfriend, Joe. The ladies then embark on an odyssey of self-exploration as they traverse Australia in search of adventure. Surfer's Paradise turns out to be anything but and they quickly move on to the Outback in search of enlightenment. The four friends squabble about money and the meaning of life.
Jan and her elusive boyfriend Joe finally meet up at Uluru/Ayers Rock and quickly become reconciled. Pearl and Shelley discover the delights of wacky baccy and divulge deep secrets. The play concludes with a glorious comic interlude set during the Sydney Mardi Gras Gay Pride event. Zack Cuthbertson and Callum West were outstanding as the campest, most outrageous drag queens ever to grace the stage of The Spring.
There is even a happy ending. The packed Havant audience enjoyed 2 hours of well-acted comedy but the play also worked on different levels leaving us to ponder upon the importance of friendship and the fact that money does not always buy happiness.
By:
David Harris, Freelance Writer