There is no shortage of new beer publications coming onto the market, indeed they are almost as prolific as the rise of new breweries. Craft beer is very popular with many authors writing guides to enable the beer drinker to get the most enjoyment from their drinking. Here is my own personal roundup of some recently published books which would make good gifts for the beer drinker in your life.
CAMRA's Good Beer Guide 2016 – editor Roger Protz. CAMRA. £15.99
This is the real ale drinker's bible. The only criteria for entry is that the pub serves a good range of well-kept cask conditioned real ales and has been recommended by CAMRA members. Over 4,500 pubs are listed including the Robin Hood in Havant and the Coal Exchange, Emsworth. This book also lists all 1,400 breweries in the UK, many of which may be visited by the public. If you are keen on real ale then this is the book for you.
Good Pub Guide 2016 - editor Fiona Stapley. Ebury. £15.99.
This annual guide lists over 5000 reader recommended pubs. The main criteria seems to be food but premises, atmosphere and range of drinks are also taken into consideration. If you like eating out in pubs in different parts of the country then this guide could be useful in ensuring that you have a reasonable dining experience. Local pubs listed include: Lord Raglan, Bluebell and Sussex Brewery, Emsworth; Wheelwrights, Havant and Maypole, Hayling.
The Best Beer in the World – By Mark Dredge - Dog 'n' Bone. £16.99
This is a beautifully illustrated hardback book which is part travelogue and part beer guide. If you like Bill Bryson and his gentle observational style of writing then you will enjoy Mark's anecdotes about visiting bars and breweries around the world. A great present for any beer lover.
The Beer and Food Companion – By Stephen Beaumont. and Jacqui Small. £25
Another lavishly illustrated hardback which is part beer book and part cook book. I think this is a book to encourage beer drinkers to cook with beer and get them to think about matching beer styles with different dishes. It would also appeal to a keen cook who may be interested in experimenting with beer.
So you want to be a Beer Expert – By Jeff Evans. CAMRA. £12.99
CAMRA publications are aimed at the serious beer drinker and this volume by noted beer expert Jeff Evans gives the reader an up-to-date history of beer and brewing. He provides a lot of information about how to really taste and appreciate beer. There are over 80 pages of information about the multitude of beer styles that one may encounter ranging from Golden Ales to Porters and exotic beers such as Lambic and Trappist ales. It is well illustrated and is a worthy addition to any beer enthusiasts' library.
Brewology: An Illustrated Dictionary for Beer Lovers – By Mark Brewer. Skyhorse. £11.30
This is an amusing yet informative book listing hundreds of beer terms and illustrating some of them with around 100 beautifully drawn pictures. A useful book for any beer lover but also something which is visually captivating. A good stocking filler for a beer connoisseur.
Beer for the Genius – By Richard English. For the Genius. £16.95.
This is a very thorough yet easy to read book which covers almost everything you need to know about beer. Beer in history, types of beer, Craft brewing, home brewing, how to taste beer, etc. are all admirably explained in a succinct way. If you are new to beer and want to learn more about its evolution then this book would be a good starting point.
Strange Tales of Ale – By Martyn Cornell. Amberley. £12.99
This book is a delightfully entertaining read for any beer lover. Martyn has researched 28 tales to do with beer including the origin of the Ploughman's Lunch; a fascinating account of how beer was supplied to soldiers in Europe after D Day; the Great Beer Flood of 1841 and the origin of binge drinking. This book would make good bed time reading for any beer devotee.
Brewing Britain: The Quest for the Perfect Pint – By Andy Hamilton. Bantam. £12.99.
This is really an encyclopaedia of beer in that it covers everything from beer tasting, brewing, beer styles, growing your own ingredients and so on. It is written by a very knowledgeable home brewer and gardening enthusiast who really imparts his passion for the subject. A great gift for any home brewer but also useful for any beer lover.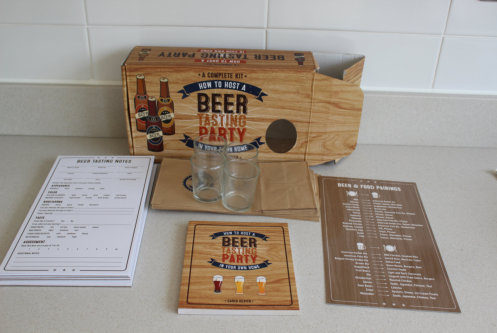 Short Course in Beer – By Lynn Hoffman. Skyhorse. £9.87
This book is really aimed at hospitality industry students and attempts to educate them about matching beer with food, beer styles, beer tasting and the effects of alcohol. It is also of general interest to the beer drinker. If we want our pubs to survive then bar staff need to be educated about beer and able to advise customers on different styles and what beers to drink with different foods.
The Craft Beer Revolution – By Steve Hindy. Palgrave. £10.99
This book studies the rise of craft brewing in the United States from a business history perspective. It is a very detailed account of how a small number of microbrewers changed America's drinking habits and led to a whole new style of beers being produced. There may be lessons to learn for British brewers from this factual account of American craft brewing.
The Beer Bible – By Jeff Alworth. Workman. £14.99
Weighing in at 644 pages this really is an extraordinarily comprehensive account of all things to do with beer. Jeff goes through every possible style of beer charting its origins, how it is brewed and then selects a range of beers of that style and gives detailed tasting notes. If you are keen to expand on your beer repertoire then this book will guide you through the myriad of styles that are now available at your local supermarket or specialist bottle shop.
How to Host a Beer Tasting Party – By Carl de Vito. Rockpoint. £19.99
Not so much a book but more of a game. This kit consists of beer tasting notepads, shot glasses for holding samples and a comprehensive book on beer tasting. The idea is you invite a few friends around, buy a few bottles of contrasting styles of beer and get people to sample them and compare notes. I am sure it could be great fun, especially after a few rounds. An amusing present for any beer loving family.
By:
David Harris, Member of the British Guild of Beer Writers