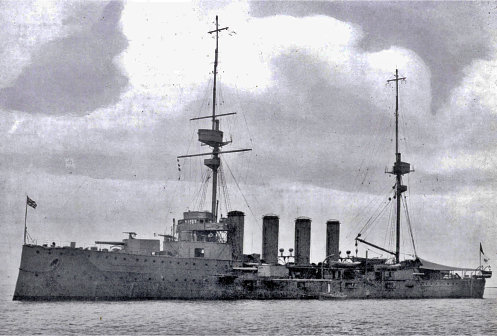 The Battle of Jutland took place on 31st May1916, when 14 British ships including three battle-cruisers were lost and some 6,000 men were killed, many of them from Hampshire. Germany lost three fewer ships and about 2,500 men; however, the Royal Navy won a strategic victory by retaining control of the North Sea. Recently Millstream Productions of Emsworth worked with Havant Sixth Form College and the Museum of the Royal Navy at Portsmouth, to produce an excellent film about the battle, which can be viewed online at: http://www.millstreamproductions.com/work/war-on-the-waves
Local war memorials, plus three recent finds, reveal the huge loss of twenty-eight men who lost their lives in the battle. The Havant War Memorial shows seven of these men, three of whom died on the battle-cruiser Invincible, two in the battleship Malaya, one on the armoured cruiser Black Prince, and one in the battle-cruiser Queen Mary. Bertram J M Roberts, one of those who died on Invincible, was the second of four Havant brothers to be killed during World War One. Hayling lost one man on Invincible and three stokers in Black Prince. Bedhampton commemorates an RMA gunner, who was lost on Queen Mary. Waterlooville's memorial has one fatality from Black Prince and one from the destroyer Ardent, as well as listing Fleet Surgeon Hugh Leigh Norris, who was killed when the battle-cruiser Indefatigable exploded.
Emsworth suffered the most local losses, with fourteen known casualties. One sailor was killed when Invincible broke in half, one died when HMS Southampton was shelled and a PO stoker was killed when Tipperary sank on 1st June. Black Prince claimed five more men and six lives were lost when the newly built Queen Mary exploded. The death toll included two young Emsworth brothers, Walter and William Kennett, who were both stokers in Queen Mary. The ship's wreck was discovered in 1991 and is the protected grave of 1,266 officers and men.
In addition to the casualties many local men survived the battle of Jutland, including Hubert Walter Cousins RMA of Havant, who served on HMS Hercules and said afterwards that he didn't see anything of what was going on because he was 'battened down', probably in a gun turret.
Havant will be marking the centenary with a service and an event at the Plaza. It would be interesting to know how many living relatives of those who took part in the battle still reside in the locality.