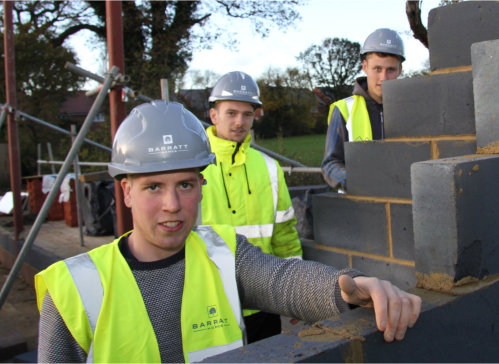 Five star house-builder Barratt Homes has taken on seven new apprentices to work on developments in the region as the home-building sector continues to grow.
Over the next two years, the apprentices will be combining college study with practical training giving them an industry recognised qualification and a valuable trade. As a division Barratt Southampton now has 22 apprentices.
The new intake includes three technical apprentices who will be studying construction management and four trade apprentices.
Barratt Homes community liaison manager Anthony Dimmick, said: "You can become an apprentice at any stage of your career, whether you have years of experience under your belt or are looking to make a start after leaving school.
"Our apprenticeships provide the perfect foundations for a career in the construction industry,'' he added.
"We are delighted to have offered apprenticeships to these new recruits, many of them have demonstrated their keenness and desire to work for Barratt Homes by asking for work experience with us before applying."
He said the apprenticeships will provide valuable on-the-job training and experience which will not only stand them in good stead for their careers ahead but will also create the much needed skilled workers of the future.
"Apprentices are the lifeline of our business on site and in the offices, and we have had many success stories with previous apprentices completing their qualifications and progressing a career in either their chosen trade or going onto site management with us."
Barratt Developments, which was named the best employer of apprentices in the country at the National Apprentices Award last year, has created more than 3,000 new jobs in the last year alone, and has pledged to take on 1,100 apprentices, graduates and trainees between 2014 and 2016.
If you would like to find out more about a career with Barratt Homes log onto www.buildingcareerstogether.co.uk