Report on my work locally and in Westminster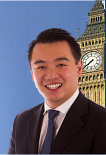 My top priority as your local MP is helping build a strong local economy, with vibrant local businesses providing jobs for local people. Thankfully, the outlook is positive: business confidence is high and local unemployment is low. Since 2010, the number of jobseekers' allowance claimants has fallen by more than 50% in our area.
This is mirrored by investment into the area In January, I visited clothing manufacturer FatFace to see their new distribution centre at Dunsbury Hill Farm. Work is progressing well, and the centre is expected to be completed later this year creating around 150 new jobs in the next five years.
In Westminster, I spend much of my time championing our local firms, and I showcase local success stories to Government Ministers when they visit our constituency. For example Robin Walker, the new Brexit Minister recently spoke to local business and community leaders at an event I organised at Langstone Technology Park and backed Havant's economy.
I'm also taking practical action on the ground to help residents: after the success of last year's event, I'm organising my second Jobs, Apprenticeships and Careers Fair on Friday 3 March at Havant Leisure Centre from 10am to 4pm, backed by the Postcode Publications. Many local employers from across the constituency will have stalls on the day.
Admission is free, with hundreds of jobs and apprenticeships on offer from both the public and private sector. The National Careers Service will hold workshops on both CV writing and job interview techniques.
So, whether you're looking for a new role, or a career change, I encourage everyone to come along to find out more. If your business would like to exhibit, please email me at alan.mak.mp@parliament.uk.
Thank you to local residents for your continued support.