Report on my work locally and in Westminster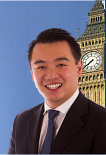 Christmas is nearly upon us, so I can reflect on another busy year in both Westminster and Havant.
It has been great to see so many of you at the three community events that I have organised in 2016. Following the successful Jobs & Apprenticeships Fair in February and my Small Business Awards in April, I was delighted that my first Older Persons' Information Fair in October proved just as popular.
The Fair was designed to bring together the many local businesses, charities and community groups that help or serve older people, from the NHS to the Rotary Club. I am determined to help every older person live a secure, independent and active life.
Like I reported in the previous edition, I also had the chance to welcome two more government ministers to Havant to showcase some success stories at grassroots level. Housing Minister Gavin Barwell met Bedhampton mum-of-two Jodie Reddin who has recently bought a house using the Government's "Help to Buy" shared ownership scheme.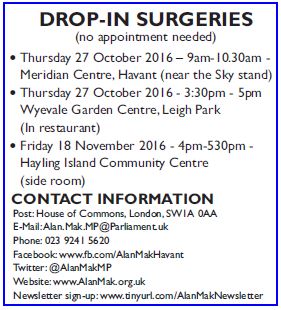 In Leigh Park, Nick Gibb, the Schools Minister, was given a tour of Havant Academy, the most improved school in England thanks to the academisation policy that has given underachieving schools fresh impetus. We met pupils who are delighted by the new school building and great classroom facilities which has transformed their learning experience.
In Westminster, I led the first ever Commons debate on the Fourth Industrial Revolution (4IR), a relatively new term that describes the new wave of new technology that's affecting how we live and work.
Some Havant-based firms are already at the cutting edge of developing 4IR technology, including businesses such as defence contractor Lockheed Martin and Dream 3D, a new business selling 3D printers on Harts Farm Way. I called on the Government to back businesses like these, so Britain becomes a world leader in the field. I'm proud that local businesses are already leading the way.
Save the date – Friday 3 March 2017 for my 2nd Jobs Fair – and please sign-up for my new residents' newsletter by visiting my website www.AlanMak.org.uk
Thank you to local residents for your continued support.