Report on my work locally and in Westminster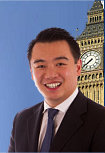 I hope readers are having an enjoyable summer. Both my constituency and Westminster offices stayed busy throughout and I continued meeting residents and supporting community activities. Two major campaigns I've been leading have made good progress.
Firstly, I held productive talks to secure a new Emsworth Surgery at the old Victoria Cottage Hospital site. It's an issue that's been going on for over a decade and since being elected last May, I have been working hard to break the deadlock. Now, a bid of £4.4million has been made to NHS England to fund construction and I will be lobbying to make sure the money is delivered.
I organised a very positive meeting between the doctors, NHS organisations and local councillors to keep the pressure up. Progress is positive: the surveyor acting on behalf of the surgery has given the green light to the outline design of a new surgery building. There's more work to be done, but I am hopeful a solution, which will be future proof for the next generation, has been found.
Secondly, my efforts to keep the Hayling Island tip open ended with success, following the decision by Hampshire County Council to save the recycling centre. The community campaign to keep the tip open was led alongside me by Islander Alison Wiltshire, who gathered 6,800 signatures against the closure. The decision by the county council is testament to the hard work by residents and shows what can be achieved through localism.
I was also heartened by news that unemployment in the UK last month fell to a fresh 11-year low – including in Havant where 85 fewer people are claiming benefits. One of those new employers is Pepperelli's Wine Lounge on Hayling which I helped open in July.
In Westminster, I backed the government renewal of the Trident nuclear defence system as it is absolutely vital we maintain our national security. I'm keeping up the pressure on Southern Rail to improve their services. After meeting trade unions leaders, I called on them to end their industrial action which is at the root of passengers' delays.
I enjoyed visiting St James' Primary School, Emsworth again, and then welcomed them for a tour of Parliament followed by a lively Q&A session. As a former school governor, I hope some of the children who visited can be inspired to be the politicians of the future.
I'm organising the constituency's first Older Persons Information Fair, taking place at the Hayling Island Community Centre on Friday 14 October between 10AM-3PM. Admission and parking are free. It's an opportunity for older people, carers, family, neighbours and friends to speak to a range of specialist organisations, businesses and community groups that serve or help older people, including AgeUK, the Citizens Advice Bureau and Hampshire County Council. Visit alanmak.org.uk for more information.