Report on my work locally and in Westminster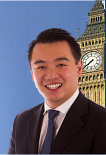 Summer's arrival has seen no let-up in my work around the constituency or in Parliament.
I've led the political campaign to keep Hayling Island's Household Waste and Recycling Centre open. After I chaired a meeting between councillors, residents' petition organiser Allison Wiltshire, and Hampshire County Council's Environment Chief Cllr Rob Humby, I'm confident they can now make a more informed decision over the tip's future.
I also enjoyed presenting the prizes for a second year running to young footballers at Hayling St Andrew's Football Club; visiting family-run printing business Senator Press in Havant; and visiting the offices of clothing manufacturer Fat Face, who've agreed to be the first tenants at the new Dunsbury Hill Farm business park near Leigh Park. I congratulated the during Prime Minister's Questions.
There have been personal achievements too. I was proud to graduate from my year-long work experience with the Royal Navy through the Armed Forces Parliamentary Scheme. It has been an eye-opening and action-packed twelve months, with a gruelling Arctic training exercise with the Royal Marines in Norway being a particular highlight.
In Parliament I've continued to be active as I settle into my second year as your local MP. Thank you to residents for your continuing support. I strongly support the recent blanket ban on 'legal highs', which are a menace to our society, and I'm continuing my campaign for more funding for local schools, and longer, faster, better trains.
It was great to meet Hampshire's new Chief Constable, Olivia Pinkney, to discuss plans to further reduce low-level crime and anti-social behaviour across Havant.
I spoke in the Parliamentary debate on the Queen's Speech, where I backed the Government's economic plan and highlighted the great progress in Havant where the number of residents on Jobseeker's Allowance has fallen by over 50% since 2010.
My next drop-in surgery will be at Springwood Community Centre on Friday 8th July. All are welcome.
You can sign up for my monthly newsletter via my website.