Report on my work locally and in Westminster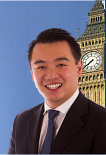 It's been a busy few months as I've continued to raise local issues in Westminster, whilst attending a high number of events locally across the Havant constituency to engage with residents. I was honoured to be named amongst the top twenty most active new Conservative MPs since May 2015 by the Independent newspaper. Thanks to all residents for their continued support.
Whether it's been pushing for flexible rail fares for local commuters. Lobbying for more funding for local schools or backing the Government's tax cut for working people in March's Budget, my Westminster work has remained busy.
My local work has continued apace too. Thanks to all readers who supported my Havant Small Business Awards by sending in nominations over the last few months. There are over 150 businesses in the running for various prizes and winners will be listed in the next issue.
I enjoyed visiting the excellent new One Eight Zero development in Bedhampton, where I met new home-owners. I also met talented apprentices from Barratt Homes, who are also building the new Denvilles community centre.
There's much for readers to look forward to as summer approaches. I recently opened the Emsworth Museum's 2016 Summer Season, featuring an engaging exhibition on local oyster boat and tourist attraction - the 'Terror'.
I'm nearing the end of my year-long "work experience" with the Royal Navy alongside my MP duties. I recently mucked for a couple of days on-board HMS Monmouth – the most decorated frigate in Her Majesty's fleet – during her recent passage from Cardiff to Plymouth, including helping to navigate and cook the crew's evening meal.
My next drop-in surgeries will be at Emsworth's Methodist Church on Friday 6th May (4.30-6PM) and the Meridian Centre, Havant on 10 June (10-11.30AM). No appointment necessary.
Residents can sign up for my monthly newsletter via my website: www.AlanMak.org.uk