Report on my work locally and in Westminster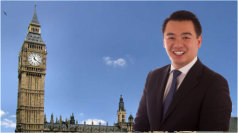 Both my constituency and Westminster offices have had a busy start to the year. A number of community projects are now coming to fruition, and there's much for residents to look forward to.
My first Jobs and Apprenticeships Fair is taking place at Warblington School on Friday 19th February from 10AM-4PM. Celebrity plumber Charlie Mullins OBE is opening the event at 10.30AM and Jane Hamilton, careers editor at the Sun, will speak at 12 noon. With over 550 vacancies on offer, as well as expert advice on offer from Jobcentre Plus and the National Careers Service, there's something for everyone. Attendance is free and no prior registration is needed.
I've also launched my Small Business Awards to celebrate our local shops, cafes, restaurants and other traders. Having worked in my family's own high street shop I know how much hard work goes into every small business. Visit my website – www.AlanMak.org.uk – to nominate your local favourites by 1 April.
I literally hit the ground running in 2016 as I donned my trainers to take part in the Havant Park Run at Staunton Country Park. I hugely enjoyed chatting to residents around the 5km course and it was great to see so many locals getting active.
I was proud to see charity cyclist and Hayling resident Peter McQuade on the New Year's Honours List. Peter has organised thirty annual bike rides from his Hayling home to Paris since 1986. Having raised over £1.5m for more than 500 worthwhile causes, his MBE was richly deserved.
I joined Stagecoach South bus company's Managing Director to launch a new discount day pass, allowing under 19s to travel across Havant borough for £2 daily. I'm working with Stagecoach and local schools to see if we can develop something similar to help parents travel to schools to support their children.
Backing our schools is one of my top local priorities, and I have enjoyed hosting a number of them in Parliament recently, including pupils from Glenwood School, Emsworth.
Regular PO readers will know I'm undertaking a year's "work experience" with the Royal Navy alongside my MP work. I'm now about to spend a week training in the Arctic Circle with the Royal Marines. I'll let readers know how I get on in my next report!
There's has been no let-up in my busy schedule at Westminster. I've helped implement the new English Votes for English Laws procedure (EVEL), and helped pass laws clamping down on "charity muggers" who chase people for direct debits, and backed small businesses in their quest for payments from bigger firms.
I've also lobbied Ministers on local issues, and secured visits to our area. Chancellor George Osborne is backing local engineering firm Innova Design from Emsworth. Food Minister Liz Truss toured Hayling's Northney Farm with me and enjoyed tasting their Ice Cream Farm. Local Growth Minister James Wharton visited Duns bury Hill Farm near Leigh Park with me as we continue its regeneration to create over 3000 local jobs. I am working hard to showcase the best of our area in Westminster.
Thank you to PO readers for your continuing support.