Report on my work locally and in Westminster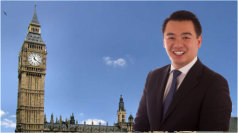 Festive lights across the constituency mean Christmas is now in full flow. I hope PO readers are enjoying this exciting time of year. Both my constituency and Westminster offices have stayed very busy, and a number of community projects are now coming to fruition. My first Havant MP Jobs & Apprenticeship Fair takes place at Warblington School on Friday 19 February 2016, so if you're a local business offering jobs or apprenticeships please get in touch. Equally, anyone looking for a job, or keen to switch careers, should come along.
Christmas and New Year are particularly busy for our postmen and women so I'll be visiting local Royal Mail sorting centres to say thanks to them for their hard work. They'll certainly be delivering my official MP Christmas card, designed by Austin Buchanan, aged 6 from Hayling Island. Thanks to the Spring Theatre, and Hayling-based Northney Dairy and internet retailer The Contemporary Home for their generous sponsorship
Our small shops and high streets rely heavily on this time of year, so we must support them by buying local. In 2016, I'll be launching the Havant Small Business Awards to recognise our best local businesses. I'm now a "Dementia Friend" after attending a dementia training session in Emsworth. With an ageing population, we all need to spot the signs of dementia in our friends and relatives.
Our community groups continue to do great work. I've joined Leigh Park Working Men's Club as a member, and helped launch the construction of a new community centre at Nursery Fields in Denvilles.
Our local Royal British Legion branches and schools were involved in moving Remembrance Sunday services and parades. I enjoyed meeting many residents at these events keen to support our veterans. Our current Armed Forces do excellent work too. Regular PO readers will know I'm undertaking a year's "work experience" with the Royal Navy alongside my MP work. I've enjoyed visiting Portsmouth Naval Base, and spent time on board HMS Tyne (an offshore patrol vessel) and our two new aircraft carriers.
Westminster has been busy over recent months, including key announcements like the Strategic Defence & Security Review, the Autumn Statement, and the Spending Review. There were three highlights for me. Firstly, £178 billion will be spent on defence equipment over the next decade, including buying new F35B jets for our aircraft carriers. Local businesses Lockheed Martin and Wartsila are involved. Secondly, the schools funding formula is being changed meaning more money for our local schools. I've lobbied the government on this since I was elected. Thirdly, a £6 billion cash injection for the NHS, a 30% boost for counter-terrorism funding, and no cuts to the police budget or tax credits. All great news for our area.
My next informal drop-in surgery is on 15 January. No advance booking is required. More details are on my website.
Thank you to local residents for your continued support. If you would like to me to attend a community event, or need some help, please contact me.