Report on my work locally and in Westminster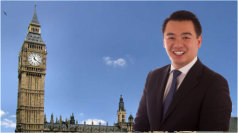 Backing local schools is a key priority as your local MP. I've already visited every secondary school and launched the Havant Education Leaders Forum (HELF) to bring together all our secondary headteachers to share ideas and continue raising standards.
As we get stuck into a new academic year, I've written to all local schools to set out ways I can help them, and kicked off a tour of local primary schools, starting with Fairfield Infants in Havant and Springwood Infant and Junior schools in Stakes. I've invited every local school to visit Parliament where I've joined together with other MPs to lobby the Prime Minister for more school funding for our area. I want to encourage our children to show their creativity so I've launched a competition to design my official Christmas card. Further details are on my website.
Autumn also means its Emsworth Food Fortnight, and I enjoyed meeting local stallholders and visitors alike, who all shared my view that this year's event was outstanding. I've continued visiting local employers from Langstone-based Lockheed Martin which supports our Royal Navy to Barclays on Hayling Island. I also enjoyed visiting Portsmouth's Navy Base to meet officers, sailors and support staff, giving me an excellent insight into their work as I continue my year's "work experience" with the Royal Navy.
Our community groups continue to do great work. I visited Leigh Park Working Men's Club on a busy Sunday afternoon and will be applying to join myself having really enjoyed meeting members.
The Southern Domestic Abuse Service, a charity based in Havant that helps women who have suffered from domestic violence, recently secured £500,000 from the National Lottery to expand their services, and I was very moved by my visit to their local refuge.
I attended the launch of the new Hayling lifeboat and I know it will do valuable work helping those in trouble at sea.
I convened a successful meeting with three NHS bodies to agree a new roadmap to move Emsworth surgery to a new site. There is much work to do and it will all take time, but we are now moving forward.
Finally, I've launched a series of informal drop-in surgeries for residents to chat to me about local and national issues. The next events take place on 23 October, 27 November, 12 December and 15 January. No advance booking is required and residents are welcome at any event across the whole constituency. More details are on my website.
At Westminster, I've been appointed to the Finance Bill Committee. This is a prestigious Committee working with Treasury Ministers to examine and pass the Summer Budget on a line-by-line basis. I'm also on the committee scrutinising English Votes for English laws, which I think are a welcome step.
Thank you to local residents for the support you continue to give me, and I will continue working hard for you locally and in Westminster. If you would like to me to attend a community event, or need some help, please contact me at: alan.mak.mp@parliament.uk