Report on my work locally and in Westminster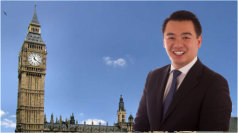 Havant MP Alan Mak reports back on his work locally and in Westminster
I hope PO newspaper readers managed to have a break over summer. For me, the Parliamentary recess was an opportunity to spend time at home in Havant, focus on local work without the distraction of Westminster, and reflect on the highlights from the last few months.
My Maiden Speech in the House of Commons came during the EU Referendum debate, where I was proud to talk up local successes, from Havant's ambitious regenerations plans and Emsworth's food festival to Hayling's rural charm and Leigh Park's community spirit. I've had some excellent Ministerial meetings to discuss local issues too, including with the Defence Secretary; the Rail Minister; the Education Secretary; and the Planning Minister.
I made my début at Prime Minister's Questions – the most high-profile Westminster event – where I welcomed the 48% drop in local unemployment since 2010, and welcomed the Summer Budget which cuts taxes for working people, clamped down on welfare abuse, kept fuel duty frozen, and introduced a new £9 Living Wage.
Another highlight was being selected for the prestigious Armed Forces Parliamentary Scheme which enables a small group of MPs to spend a year gaining "work experience" with one of our Services, in my case the Royal Navy. I will keep readers posted about my experiences over the next 12 months working with our Navy personnel. I will also be serving on the Commons committee examining English Votes for English Laws, and I've been elected to chair Parliament's all-party group for entrepreneurship, backing new and growing businesses.
Locally, I've enjoyed engaging with some of the schools, businesses and community groups that bring our area to life. From presenting certificates at Purbrook and Mengham Junior Schools to listening to pupils sing at Mill Rythe school and answering questions at Fairfield Infants; our local schools are doing very well.
I've also launched the Havant Education Leaders Forum (HELF) to bring together all our local secondary headteachers to share ideas and continue raising education standards.
A growing local economy with more jobs is vital, and I met with Havant Borough Council to discuss the ambitious growth plans at Market Parade and Dunsbury Hill Farm which will create man new local jobs. Treasury Chief Secretary Greg Hands MP (Chancellor George Osborne's deputy) also accepted my invitation to meet a group of local business leaders at Havant Rugby Club, and he praised them for the contribution they make, including to local charities; for example, I enjoyed presenting the prizes at the Langstone Raft Race organised by the Ship Inn. Similarly, Northney Farm hosted this year's Hayling Businessmen's Club summer BBQ, whilst I enjoyed welcoming back our Paris to Hayling Cycle Riders at the Olive Leaf pub. All these groups and businesses reflect the strength of our community spirit.
Thank you to local residents for the support you continue to give me, and I will continue working hard for you locally and in Westminster.
If you would like to me to attend a community event, or need some help, please contact me.