Rolling my sleeves up and getting stuck in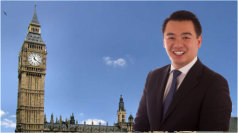 New Havant MP Alan Mak gives us the highlights from his first month in the job.
It was an honour to be elected as Havant's local MP last month with an increased majority. David Willetts was outstanding, and I promise to work hard for all local residents. I've already got stuck in very quickly, dealing with residents' queries, speaking to Ministers about local issues, supporting community events across the constituency, and setting up my new offices in Havant and Westminster.
The first weeks in Westminster have been spent speaking up about local issues with Ministers, hiring staff to support my work for local residents, and attending a well-organised induction course run by the Commons authorities. It's had a very "first month at school" feeling except the hard work starts immediately.
Over the first month, I've discussed Havant's growing economy with Chancellor George Osborne, especially our plans to regenerate Market Parade and bring new local jobs to Dunsbury Hill Farm. I caught up with London Mayor and fellow new MP Boris Johnson about upgrading Waterloo station which affects Havant's commuters. I met Railways Minister Claire Perry about South West Trains services, and how we can improve the quality of trains on the Portsmouth-Havant-London line, for example ensuring that every train has WIFI. This was an issue raised with me again and again during the election campaign, and I am taking action.
The Parliamentary induction course itself focused on a series of tutorials, delivered by experienced MPs and House of Commons staff, covering everything from the law-making process and understanding Parliament's procedures to dealing with constituency casework. All this practical advice was immediately useful. My first mailbag contained over a hundred pieces of post, from congratulatory messages to residents seeking my help. I have developed a great working relationship with Havant Borough Council and Hampshire County Council, and we are working well together. I've also enjoyed supported a range of local events from the Hayling Donkey Derby & Fete to Leigh Park's 999 Community Fun Day with the emergency services.
Nationally, we have a big legislative programme to deliver over the next five years, from cutting taxes for working people and creating apprenticeships to giving voters an EU referendum. I'm proud to be part of a strong team delivering for Havant's residents in Westminster.
It's been an inspiring and energising start. Inspiring because we've got a positive manifesto to implement, which focuses on helping working people. And energising because local residents and MP colleagues have given me such tremendous encouragement as I start not just a new job, but an entirely new way of life. Parliament is a unique and special place to work, and I am mindful that Havant's residents have sent me here to speak up for them and their interests. During the campaign they told me their priorities were a strong economy, successful schools and vibrant communities – and that's what I will help to deliver.
So, with the first month under my belt, I'm getting stuck in. I'll be a hardworking local MP and a strong voice for Havant in Westminster. I've started as I mean to go on.
Residents can follow Alan on social media @AlanMakMP or Facebook.com/AlanMakHavant