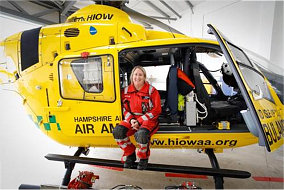 Hampshire and Isle of Wight Air Ambulance (HIOWAA), in partnership with University Hospital Southampton NHS Foundation Trust (UHS), has committed to fund the first four years of a Pre-Hospital Emergency Medicine (PHEM) training programme for Doctors in the Wessex Deanery, which includes Hampshire and the Isle of Wight.
"Working alongside our Paramedics, our PHEM Doctors are able to carry out procedures ranging from open heart surgery to amputation, providing a further depth of medical knowledge and the ability to carry out additional medical procedures before the patient reaches hospital.", commented HIOWAA CEO Alex Lochrane
Fiona Dalton, Chief Executive of UHS, said: "We have formed a fantastic relationship with HIOWAA over a number of years and we are delighted to partner with them again on this excellent development for clinicians and patients across the south of England.
"This news follows recent announcements of a significant increase in survival for patients who have suffered major trauma in the region. HIOWAA's recent pledge to fund a PHEM training programme for Doctors will ensure that the charity continues to remain at the cutting edge of pre-hospital care.
'We pride ourselves on the fact that our crews are able to deliver the same level of world-class care that you would expect in the emergency department of a hospital', continued HIOWAA CEO Alex Lochrane, "Our PHEM training programme for Doctors is an investment in the future and our commitment to continue to provide the highest standard of patient care to those in their hour of need."