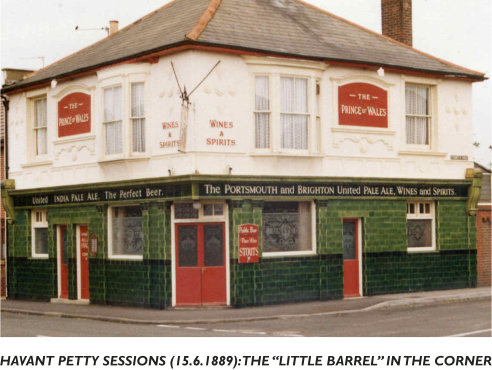 The Prince of Wales pub is situated along West Street close to Bedhampton Railway Station. The pub was for many years associated with brewing in Havant.
The pub itself was probably built close to around the middle of the 19th century but the present building may have replaced an earlier beerhouse on the site.
An advertisement for a sale on the 3rd November 1853 at the Dolphin Inn, Havant records:
A COPYHOLD DWELLING HOUSE, situate in the West Street, Havant, known by the name of the "Prince of Wales," now in the occupation of Henry Elliott, at a yearly rental of £13.
Two years earlier, in the census of 1851, James Veal, a widower of 35, and recorded as a beer retailer, is occupying a property in West Street, with Henry Elliott and his family as lodgers.
It is unclear if this was the same property but various beer retailers are recorded in unnamed properties in West Street until the new Prince of Wales public house came into being.
Like the White Hart at the corner of North and East Street Havant, the Prince of Wales is another fine example of Victorian public house architecture with its green glazed brickwork. From its opening in about 1867 until closure in 1922 the brewery attached to the pub produced beer for the neighbourhood for over fifty years. Originally, the brewery was under the control of the Davey family with Thomas T. Davey probably the first licensee of the new public house. Later the public house, along with brewery, came under the control of Sutton Bros. of Chichester and finally Biden & Co. Cygnet Brewery until the closure of the brewery in 1922. Until its demolition to make way for modern housing the brewery buildings were used by the Home Service Laundry and Initial Industrial Cleaning, both making use of the brewery's old well.
One of the more colourful landlords of the pub was Frederick Bullock, who held the licence from before the First World War until about 1930. Frederick's brother, Billy (Charles) Bullock, was a prominent jockey of the day and won both the Derby and The Oaks.
George Slater was charged with selling adulterated rum. – On the 21st of May P.S. McLaughlin visited the defendant's house the Prince of Wales, Havant and there purchased three quarters of rum for 1s. 3d. from a "little barrel in the corner". He told the defendant that he wanted the liquor for analysis, upon which he remarked that "he would find it pretty good". On one of three samples, however, being forwarded to the public analysis at Southampton it was certified as being 29% under proof, or 4% below the recognised standard. The defendant alleged that he had made a mistake in reducing the liquor. He was fined 5s. 6d. and 23s. 4d. costs.