in the Eighteenth and Nineteenth Centuries in Havant and Rowlands Castle from Newspaper Reports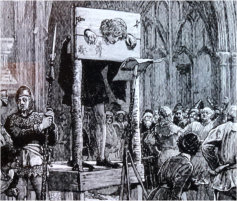 23 March 1750, Derby Mercury –
Fire at Havant: Yesterday there was a great fire at Havant, which burnt down eight houses, and destroyed several Ricks of Corn and Hay. I am told it was occasioned by a boy shooting at some small birds on a Thatched House, by which the same took fire. – A sufficient caution to people who propose to cover their houses in straw.  
15 November 1751, Derby Mercury –
We hear that Richard Churcher was lately committed to Winchester Goal, for writing a Letter to John Moody, of Havant, Esq; sign'd by the Name of Isaac Bartholomew, demanding £500 to be lodged in a certain Field, otherwise threatening to set Fire to his House, Barns, &c.
15 March 1754, Derby Mercury –
London 14 March: We hear from Sussex that a few Days ago Farmer Voke, of Birdham, near- Chichester, went to Havant in Hants, to receive some Money for his Son, and calling at a Publick-House, he pulled out some Pieces of Gold; and an Hour after he left the House he was found murdered, and his Money gone. This is the Place where Galley and Chater stopped, and were misled in their Way to Major Batten's, and so inhumanly treated by the Smugglers; and it is thought some of that villainous Gang are concerned in this, they herding together in great Numbers there. As soon as the poor Man's Son heard of his Father's Death, he took to his Bed, and died.
25 February 1765, Salisbury and Winchester Journal –
Winchester Gaol: The 18th, John Salter was committed to the same gaol, for robbing and defrauding his master Mr. Andrews, of Havant, of a considerable quantity of strong beer.  
8 March 1773, Hampshire Chronicle –
Notice: Whereas Sarah, the Wife of William Buckhurst, of Havant, in the County of Southampton, Malster, did, on the 29th, Day of May, 1770, Elope from her Husband, and now secretes herself. These are therefore to forewarn all Persons from giving her any Credit, as I will not pay any Debt she hath contracted or may contract. March 8, 1773. W. BUCKHURST.  
12 April 1773 Hampshire Chronicle –
Winchester Assizes, 10 April: Ann Thompson the mother, and Ann and Thomas Thompson, her daughter and son, were yesterday committed, by Edward Ives, Esq., for stealing a large quantity of leather from John Knight, of Havant in this County.   
                                                   
23 September 1776, Hampshire Chronicle –
Wood Stealers: Whereas several idle and disorderly persons have, under a pretence of nutting or gathering dead wood, made a practice of going into and damaging the Woods and Coppices of Peter Taylor, Esq., of Purbrook Park, in this County; Now this is to give notice that any person who shall hereafter be found in the Woods or Coppices of Peter Taylor, Esq., or within his Manors of Farlington and Drayton, trespassing against the statute or statutes in such case made and provided, shall be prosecuted as the law directs. And any person giving information to Mr James Newland, in Havant, shall receive a reward of Two Guineas, on conviction of the offender, over and above the moiety of the forfeiture allowed by the statute.
23 June 1777, Hampshire Chronicle –
Last week a dual was fought at the Bear Inn at Havant between an eminent mercer of that place, and Mr…of Portsmouth. The former received a slight wound, when, by the intereference of the seconds, the dispute was amicably settled, and the remainder of the evening crown'd with festivity.  
By:
Extracts from a new Havant Local History Booklet No. 114. Researched by Steve Jones: steve195598@yahoo.co.uk. Read all booklets at: thespring.co.uk/heritage/local-history-booklets/