… tips and exercises from our Award Winning Physio
My name is Natalie March from Physio-logical, a chartered physiotherapist based within Active4Less in PO9. I hope you found our last self-help exercises for neck pain useful. Today we will be offering some advice and exercises for knee pain.
We are now pleased to be able to offer more afternoon and evening appointments at our Havant clinic. Julian Highnam has joined our team and is now taking bookings – please see http://www.physio-logical.net/our-team/ for more information about Julian.
A common complaint we see in our clinics is patello-femoral pain syndrome (pain at the front of the knee); runners, cyclists, people taking up new sports and activities plus many more suffer from this problem. Most people with this problem have some pain when walking up and down stairs.
Knee pain can have many root causes, such as cartilage tears, osteoarthritis, tendon and ligament sprains. I am going to give you exercises which will help with knee pain due to muscle imbalance which then leads to poor tracking of your knee cap (Patella).
Here is a testimonial from one of our clients who had knee pain:
"I would like to thank Physio-logical for the excellent treatment I received on my knee. I had trouble even getting up stairs but after a few weeks it was on the mend. I would definitely recommend Physio-logical".
Mr P, August 2013
The best treatment for Patello femoral pain is exercise, massage and mobilisation. Please be aware of your body and take advice from your GP before exercising if you have any aches or pains or send me an email (enquiries@physio-logical.net) for advice and guidance.
All these exercises should be pain free.
ITB Stretch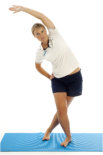 The ITB (ilio-tibial band) stretch is good for lengthening the tight muscle which runs from outer hip to outer knee which leads to muscle imbalance around the knee.
Cross one leg in front of the other one and bend that knee, keep back leg straight, drop hip of back leg to side, to increase the stretch lift the arm of straight leg up and over.
You should feel the stretch in the outer thigh/hip of the straight leg.
Hold 30 seconds, repeat 2 times, 3 times a day
Squats


This exercise helps strengthen the weaker inner thigh muscle to improve the muscle imbalance.
Feet hip width apart, toes pointing forwards. Squat down, sticking your bottom out like there is a chair behind you.
Always keep your knees in line with second toe, do not drop your knees in.
Hold 10 seconds, repeat 3 times 10, 2 times a day.
Side Leg Raises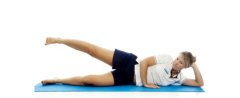 This exercise helps strengthen the gluteal muscles to improve the muscle imbalance around the knee
Lying on your side
Tighten your buttocks
Lift your top leg up, make sure it is in line with your body and doesn't come forwards, hold for 10 seconds
Repeat until fatigue
Venus Awards
Congratulations to Donna, our administrator for reaching the semi-finals of the Venus Awards Portsmouth. She will be attending the finalist announcement afternoon tea event at the Langston Hotel, Hayling Island later this month. Best of luck to Donna and thanks you for your hard work.
For more tips and guidance, please visit www.physio-logical.net.