... tips and exercises from our Award Winning Physio
My name is Natalie March from Physio-logical, a chartered physiotherapist in PO9.
We are pleased to be able to introduce our newest team member, Michael Connolly. He will be working out of our Havant clinic and also works for the Ministry Of Defence. Michael has a broad experience treating sports teams, a range of military personnel as well as NHS patients.
Further postgraduate training includes acupuncture and manipulation training, and is also currently studying for a Masters with SOMM (Society of Orthopaedic Musculoskeletal Medicine).
Michael enjoys freediving and sailing in his spare time (https://physio-logical.net/staff/michael-connolly/)
We hope you found our exercises for knee pain in our last article useful.
In today's article we will be offering some advice, exercises and stretches which are good for those suffering with Lumbar Spondylosis (wear and tear or osteoarthritis in the lower back). Most people with this problem have pain and stiffness in the morning, restricted lower back movements.
Here is a testimonial from one of our patients who has back pain:
"Because I have a recurring back-problem, I have had to seek treatment from various members of the Physio-logical team for a number of years. On each occasion, the approach has been thoroughly professional, beginning with a full verbal and physical examination of my problem. My needs have been clearly explained and the treatment carried out with follow-up exercises. The result – relief from a debilitating problem enabling me to live and exercise free of pain". Mr. H
Hands on physiotherapy treatments including; sports massage, joint mobilisation, neural mobilisations, strengthening exercises plus stretching exercises is an effective treatment for lumbar spondylosis.
Please be aware of your body and take advice from your GP before exercising or send an email to (enquiries@physio-logical.net) for advice and guidance.
All of these exercises should be pain free.
Knee Rolling (Lumbar Spine Rotation)
Lie on your back with your knees bent up and feet flat on the surface.
Keep your knees together and roll them steadily from side to side.
Repeat ten on each side, two times a day.
Hold the last position for a 30 seconds each side
Sit to Stand


This exercise helps strengthen your leg and bottom muscles to take some of the strain away from your lower back.
Cross your arms
Push down through your heels and stand up
Repeat until your legs feel tired, two times a day
Superman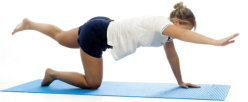 This exercise helps strengthen your core (deep tummy muscles) – like a corset to support your lower back.
Tighten core muscles
Reach out opposite arm and leg
Hold 10 seconds repeat on each side, ten times, two times a day
If you are suffering from back pain, have been told you have lumbar spondylosis or arthritis in your lower back then physiotherapy can help to improve movement, strength and ease pain.
Please get in contact with us via enquiries@physio-logical.net or 07835 712306 or book online at https://physio-logical.net/contact-us/  if you want some help, treatment or advice.
We can help you improve your movement, strength and ease your niggles and aches to enable you to fulfil a good quality of life.
Pilates
We are now offering one to one pilates with Aniko. Almost everyone could benefit from taking part in Pilates. The exercises can be adapted for all ages and levels of fitness, whether you're recovering from an injury, pregnant, retired or a competitive athlete. If you tend to suffer with recurrent back or neck pain, taking part in regular Pilates can really help. In fact, it's a great way to ward off or help recovery from many injuries as it really focuses on muscle control, movement and developing strength and flexibility throughout the whole body.
For more tips and guidance, visit www.physio-logical.net