… tips and exercises from our Award Winning Physiotherapy Clinic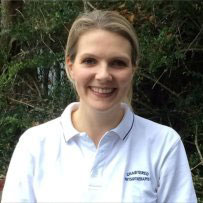 My name is Katy O'Sullivan from Physio-logical, a Chartered Physiotherapist who works with Natalie March within My Fitness Hub, Havant and in Rowlands Castle in the PO postcode areas. We offer hands on physiotherapy, rehabilitation exercises, acupuncture and sports massage treatments within our two clinics and we also offer home visits too. I hope you found our last self-help exercises for plantarfaciitis useful.
So today's subject is "Knee osteoarthritis, what exercises can I do to help?"
In our last article we covered what is knee osteoarthritis and how physiotherapy can help.
This time we will be sharing with you some exercises you can try at home if you have knee pain, especially knee osteoarthritis.
Treatment
There are lots of different treatment options from exercises, taping, to sports massage to release off tight muscles, knee joint mobilisations, stretches and acupuncture.
Please be aware of your body and take advice from your GP before exercising or send an email to (enquiries@physio-logical.net) for advice and guidance.
Here are a few exercises that you can try at home for your knee pain:

Knee Bend
Lie on your front. Keeping your thigh down, bend your knee as far as you easily can.
Hold for five seconds, repeat ten times three times a day

Inner Range Quads
Lying flat or sitting up.
With the knee supported on a towel in a bent position.
Pull toes up towards you, squeeze thigh and straighten the knee.
Hold out straight for five seconds, repeat ten times, three times a day for two days

Knee Extension
Sitting in a firm chair.
Slowly straighten the leg, hold it straight for five seconds - repeat ten times three times a day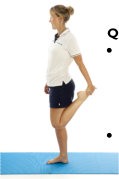 Quadriceps Stretch
Lift heel to bottom.
Hold onto your foot with your hand, keep knees together and hips level.
You should feel the stretch in the front of the thigh
Hold for thirty seconds, repeat twice, two times a day
If any of the above sounds familiar or if you suffer from osteoarthritis in your knees then we can help you here at Physio-logical in Havant and Rowlands Castle. We all regularly see patients with a wide range of knee pain symptoms. Call our clinic today on 07835 712306 to find out more about how our team of experienced physiotherapists and soft tissue therapists can help.
Gift Vouchers
Sports massage and physiotherapy vouchers make an ideal gift, for more information please email enquiries@physio-logical.net.
Social Media
We are always updating our social media sites with news and offers please like us on Facebook, follow us on twitter and instagram, also connect with us on linked in. Please also feel free to share any content we post with friends, family, colleagues who maybe interested.
Blogs/Newsletters:
We are now writing regular blogs on our website https://physio-logical.net/blog/  If you would like us to write a blog, newsletter or article about a specific condition/complaint then please do let us know.
Special Offer
Refer a Friend Offer: If you refer a friend and they come for an assessment and you come for an assessment too you will both receive £5 off your appointment. The normal charges are: £55 for a full assessment, treatment and exercises, so this would be £50. To claim this offer then please call 07835 712306 or email: enquiries@physio-logical.net. Terms and conditions apply. Please quote: Refer a Friend Postcode Publications. For more tips and guidance or to book an appointment online please visit www.physio-logical.net