… tips and exercises from our Award Winning Physio
My name is Natalie March from Physio-logical, a Chartered Physiotherapist based within My Fitness Hub, Havant and in Rowlands Castle in the PO9 postcode area. Myself and our two other physiotherapists and soft tissue therapists offer hands on physiotherapy, rehabilitation exercises, acupuncture and sports massage treatments both within our two clinics and we also offer home visits too. I hope you found our last self-help exercises for hip pain useful.
So today's subject is "How Does Physiotherapy Help Sciatica?"
Here is a testimonial from one of our clients who had sciatica:
"I have been suffering with sciatica for a couple of weeks before seeing Physio-logical. I have been impressed with the advice and treatment which I have been receiving. I now understand what has happened and what I need to do to stop it from coming back. Would recommend them to anyone" Mr. D
** If you have any of the following symptoms, you should seek medical attention from a doctor immediately: Loss of feeling in the groin region or inner thighs, bowel or bladder disturbances, profound weakness in the legs **
What is Sciatica?
Sciatica affects many people including gardeners, sailors, cyclists, tennis players, office workers and builders to name a few, but many other people suffer too.
When the sciatic nerve is compressed or irritated, it can cause pain, numbness and a tingling sensation that runs from your lower back down one of your legs to your foot and toes.
However some people suffering from sciatica have no back pain, they could just have buttock or big toe pain.
The pain is usually aggravated by bending, sneezing, coughing, walking, lifting or sitting for a long period of time.
What causes sciatica?
Most commonly the site of origin is within the lower back (lumbar spine) and can be due to a nerve root being impinged, herniated disc or a facet joint. Rarely there are other causes of sciatica such as wear and tear (degenerative) changes of the vertebrae, a fracture, or narrowing of the spinal cord canal (spinal stenosis.)
There are other problems which can lead to sciatic symptoms too:
Pregnancy
Piriformis muscle pain/tightness
After hip surgery or hip pain
Sacroiliac joint dysfunction (pelvis pain)
We can provide a thorough assessment of your symptoms and identification of the cause for you pain, ruling out any of the more serious conditions then suggest an appropriate treatment plan.
My back doesn't hurt?
This is always a hard thing to get your head around, if you have no back pain then why is your back the source of your pain? Sciatica symptoms tend to refer away from the origin of pain but as symptoms are addressed and treatment commenced, the typical pattern of healing involves the symptoms feeling like they are travelling back up the leg towards the centre of the back. This is normal.
Treatment
The best treatment for sciatica is hands on joint mobilisations, sciatic nerve mobilisations, massage, combined with exercises and advice.
Acupuncture is another effective treatment for sciatica; we offer this at both of our clinics. We also provide strengthening exercises to help reduce the risk of sciatica reoccurring.
Please be aware of your body and take advice from your GP before exercising or send an email to enquiries@physio-logical.net for advice and guidance.
What to do initially?
Speak to your GP about appropriate pain control if the pain is intense and/or affecting your sleep, driving, or ability to work.
Avoid staying in one position for any length of time - avoid sitting, it will make your pain worse.
Try to keep moving gently throughout the day without increasing your pain.
Don't push through pain with activity or stretches as the underlying condition may worsen if you do too much.
Exercises for Sciatica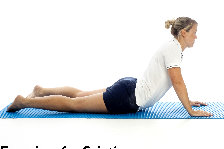 Back Arching (Lumbar Spine Extension) - Lying
Lie on your front.
Push up with your arms and arch your back
Repeat ten times, three times a day.
Hold the last position for 30 seconds
Back Arching

(Lumbar Spine Extension) - Standing
Move your hips forward
Lean back as far as you can.
Repeat ten times, three times a day
If any of the above sounds familiar or if you suffer from sciatica on a regular basis then we can help you. Here at Physio-logical in Havant and Rowlands Castle our Chartered Physiotherapists regularly see clients with a wide range of sciatica symptoms. Call our clinic today on 07835 712306 to find out more about how our team of experienced Physiotherapists can help. Alternatively you can get in contact with us via enquiries@physio-logical.net or book online at www.physio-logical.net/contact-us.
Special Offer
Refer a Friend Offer (September 2018): If you refer a friend and they come for an assessment and you come for an assessment too you will both receive £5 off your appointment. The normal charges are: £49 for a full assessment, treatment and exercises, so this would be £44. To claim this offer then please call 07835 712306 or email: enquiries@physio-logical.net. Terms and conditions apply. Please quote: Refer a Friend Postcode Publications
Blogs/Newsletters:
We are now writing regular blogs on our website https://physio-logical.net/blog/  If you would like us to write a blog, newsletter or article about a specific condition/complaint then please do let us know.