My name is Natalie March from Physio-logical, a chartered physiotherapist in PO9.
We hope you found our tips and exercises for neck pain in our last article useful.
We are pleased to announce that we now have two new physiotherapists at our Havant clinic – please see https://physio-logical.net/meet-the-team/ for more information about our team.
We are now offering a neurological physiotherapy service too, so if you have MS, Parkinson's Disease, or have had a Stroke then we can help you.
So today's subject is "I've got lower back pain – what can I do?"
Here is a testimonial from one of our clients who had lower back pain:
"Assessment of my lower back problem and full explanation of why I was suffering and the introduction to a series of exercises to significantly improve flexibility of my spine and increase muscle strength in the affected area. The treatment was good value for money and I would recommend to a friend" (Mr. L)
Lower back pain is reported by 80% of people at some time in their life but a lot of people just live with the pain. People suffering from lower back pain are those with jobs that involve driving, builders, golfers to name a few!
Back pain can have many root causes, not least poor posture that causes (an imbalance and stiffness in certain muscles) so I have chosen exercises below that will help mobilise the back and open up the joints to increase flexibility.
Hands on physiotherapy treatments including; massage, mobilisation, manipulation, myofascial release, neural release, combined with stretching and core stability exercises is an effective treatment for lower back pain. We also offer acupuncture which is great for the treatment of lower back pain too.
Exercises for Lower Back Pain
Please be aware of your body and take advice from your GP before exercising if you have any aches or pains, or send me an email enquiries@physio-logical.net for advice and guidance.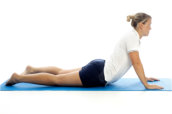 Knee to chest (Lumbar Spine Flexion)
Kneel down with your arms stretched out in front and head lowered
Sit back onto your heels
Hold 30 seconds x 2 x 3 times a day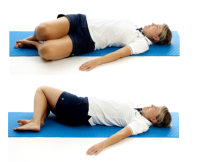 Knee Rolling (Lumbar Spine Rotation)
Lie on your back with your knees bent up and feet flat on the surface
Keep your knees together and roll them steadily from side to side.
Repeat ten on each side, three times a day.
Hold the last position for a 30 seconds each side
Back Arching (Lumbar Spine Extension)
Lie on your front
Push up with your arms and arch your back
Repeat ten times, three times a day
Hold the last position for a 30 seconds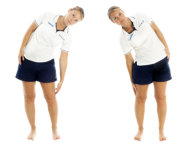 Side Bending (Lumbar Spine Side Flexion)
Stand with your hands against the sides of your thigh.
Slide one hand down the same thigh, bending to that side and avoiding any twisting
Repeat ten times, three times a day
If you are suffering from lower back pain then please get in contact with us via enquiries@physio-logical.net, 07835 712306 or book online as we can help you to get rid of your lower back pain today.
Special Offer
Have you had a Stroke? Do you have Parkinson's Disease or MS? We can help you. To claim your FREE 15 minute assessment at out Havant clinic with our specialist neuro physiotherapist please call 07835 712306 or email: enquiries@physio-logical.net, terms and conditions apply. Please quote: Postcode Publications. We offer affordable treatment plans.
Social Media
We are always updating our social media sites with news, offers and competitions please like us on Facebook - https://www.facebook.com/physio.logical.net, follow us on twitter - https://twitter.com/Physio_logical, follow us on instagram - https://www.instagram.com/physio_logical/  and connect with us on linked in https://www.linkedin.com/company/physio-logical 
Gift Vouchers
Sports massage and physiotherapy vouchers make ideal gifts, for more information please email: enquiries@physio-logical.net.
For more tips and guidance or to book an appointment online please visit www.physio-logical.net