… tips and exercises from our Award Winning Physio
My name is Natalie March from Physio-logical, a chartered physiotherapist in PO9.
We are looking to expand our team here at Physio-logical so if you know any chartered physiotherapists looking for part time work then please pass this article onto them and ask them to email their CV to us (enquiries@physio-logical.net).
We are pleased to announce that we now offer online booking of your physiotherapy and sport massage appointments please see https://physio-logical.net/ for more information.
We hope you found our tips and exercises for shoulder pain (rotator cuff impingement) in our last article useful.
Today we will be offering some advice, exercises and stretches which are good for those suffering with Patellofemoral pain syndrome (knee pain). Runners, cyclists, sailors, ramblers and people taking up new sports and activities plus many more suffer from this problem. Most people with this problem have some pain when walking up and/or down stairs.
Knee pain can have many root causes, such as cartilage tears, osteoarthritis, tendon and ligament sprains. We are going to give you exercises which will help with knee pain due to muscle imbalance which then leads to poor tracking of your knee cap (Patella).
Here is a testimonial from one of our clients who had knee pain:
"I would like to thank Physio-logical for the excellent treatment I received on my knee. I had trouble even getting up stairs but after a few weeks it was on the mend. I would definitely recommend Physio-logical". Mr P Hands on physiotherapy treatments including; sports massage, mobilisation, taping, balance (proprioceptive) re-education, combined with stretching and strengthening exercises is an effective treatment for patellofemoral knee pain.
Please be aware of your body and take advice from your GP before exercising or send an email to (enquiries@physio-logical.net) for advice and guidance.
All of these exercises should be pain free.
ITB Stretch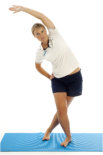 The ITB (ilio-tibial band) stretch is good for lengthening the tight muscle which runs from outer hip to outer knee which leads to muscle imbalance around the knee.
Cross one leg in front of the other one and bend that knee, keep back leg straight, drop hip of back leg to side, to increase the stretch lift the arm of straight leg up and over.
You should feel the stretch in the outer thigh/hip of the straight leg.
Hold 30 seconds, repeat 2 times, 3 times a day
Squats


This exercise helps strengthen the weaker inner thigh muscle to improve the muscle imbalance.
Feet hip width apart, toes pointing forwards. Squat down, sticking your bottom out like there is a chair behind you.
Always keep your knees in line with second toe, do not drop your knees in.
Hold 10 seconds, repeat 3 times 10, 2 times a day.
Side Leg Raises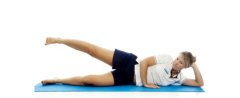 This exercise helps strengthen the gluteal muscles to improve the muscle imbalance around the knee
Lying on your side with your back against a wall
Tighten your buttocks
Lift your top leg up, make sure you slide your heel up the wall so your leg stays in line with your body and doesn't come forwards, hold for 10 seconds
Repeat until fatigue, 2 times a day
If you are suffering from knee pain or any other aches or pains then please get in contact with us via enquiries@physio-logical.net or 07835 712306.
Gift Vouchers
Sports massage (Havant clinic only) and physiotherapy vouchers make ideal gifts, for more information please email: enquiries@physio-logical.net.
For more tips and guidance, visit www.physio-logical.net
Social Media
We are always updating our social media sites with news, offers and competitions - please like us on Facebook - ttps://www.facebook.com/physio.logical.net, follow us on twitter - https://twitter.com/Physio_logical, follow us on instagram - https://www.instagram.com/physio_logical/ and connect with us on linked in https://www.linkedin.com/company/physio-logical