... tips and exercises from our Award Winning Physio
My name is Natalie March from Physio-logical, a chartered physiotherapist in PO9.
We are looking to expand our team here at Physio-logical so if you know any chartered physiotherapists looking for part time work then please pass this article onto them and ask them to email their CV to us.
I hope you found our tips and exercises for golfers elbow in our last article useful.
Shoulder pain, we treat this allot. There are many different causes of shoulder pain, the most common complaint we see is rotator cuff impingement.
Today we will be offering some advice, exercises and stretches which are good for those suffering with rotator cuff impingement (shoulder pain).
Impingement syndrome is more likely to occur in people who engage in physical activities that require repeated overhead arm movements.
Common symptoms include:
An arc of shoulder pain approximately when your arm is at shoulder height and/or when your arm is overhead.
Shoulder pain that can run from the top of the shoulder to the elbow.
Pain when lying on the sore shoulder.
Muscle weakness or pain when attempting to reach or lift.
Pain reaching for the seat-belt.
Here is a testimonial from one of our clients who had rotator cuff impingement;

"After six months of not having full movement in my shoulder I visited Physio-logical. Five sessions later it's like I never had the problem and no pain at all. Highly recommend." Mr A
Hands on physiotherapy treatments including; sports massage, frictions, mobilisation, manipulation, ultrasound, balance (proprioceptive) re-education, combined with stretching and strengthening exercises is an effective treatment for rotator cuff impingement/shoulder pain.
Please be aware of your body and take advice from your GP before exercising or send an email to (enquiries@physio-logical.net) for advice and guidance.
All of these exercises should be pain free.

Shoulder Stretch
You may be more likely to develop rotator cuff problems if the back of your shoulder is tight.
Bring your arm across your body and hold it with your other arm, either above or below the elbow.
Hold for thirty seconds repeat twice, three times a day.

Pectoral Stretch
You may be more likely to develop rotator cuff problems if the front of your shoulder is tight.
Stand at end of wall or in doorway
Place inside of bent arm on surface of wall and position the bent elbow at shoulder height
Walk forwards and turn body away from positioned arm
Hold for thirty seconds repeat twice, three times a day.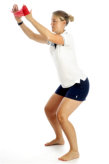 Squat + Shoulder Elevation with Theraband
This is an exercise to start to strengthen the rotator cuff this should only be done once you have full shoulder movement and should be undertaken pain free.
Tie the theraband in a loop
Push out with your hands with a static and constant pressure against the theraband
As you squat down (keeping knees in line with the second toe) you push out against the theraband and take your arms up above your head.
Repeat three times fifteen, two times a day.
Remember this exercise should be pain free.
If you are suffering from shoulder pain/rotator cuff impingement then please get in contact with us via enquiries@physio-logical.net or 07835 712306.
Social Media
We are always updating our social media sites with news, offers and competitions please like us on Facebook -https://www.facebook.com/physio.logical.net, follow us on twitter - https://twitter.com/Physio_logical, follow us on instagram - https://www.instagram.com/physio_logical/ and connect with us on linked in https://www.linkedin.com/company/physio-logical
Gift Vouchers
Sports massage (Havant clinic only) and physiotherapy vouchers make ideal gifts, for more information please email: enquiries@physio-logical.net.
For more tips and guidance, visit www.physio-logical.net