Most of us will make an optimistic New Year's resolution list which is carried out at the start of January but often abandoned before the 31st. We asked our experts for advice on achieving realistic goals and looking after your health beyond January.
"Snoring can cause a wide range of health related and lifestyle problems including disturbed sleep and strained relationships. Contrary to popular belief - there are things that can be done!"
Mr Costa Repanos, Consultant ENT Surgeon
"Now is the perfect time for treating varicose and thread veins, your legs will then be in tip top shape for a sunny 2017! All treatments are guided by detailed duplex scanning of your veins to produce a bespoke plan tailored to your needs."
Mr Simon Payne, Consultant Vascular Surgeon
"I would strongly recommend all women to monitor their breasts regularly for any concerning signs and seek early medical assessment, especially if you notice a new lump. Make sure you attend your routine breast screening appointments, if you are aged between 47 and 73 and invited to have mammograms as part of the national screening programme put in place to detect signs of early breast cancer."
Mr Avi Agrawal, Consultant Breast Surgeon
"Dependence on glasses and contact lenses can be a source of huge frustration for many people. Thankfully, the latest techniques in vision correction surgery can treat virtually any prescription - long sight, short sight and astigmatism. We have successfully treated patients ranging from +14D to -40D using a combination of the laser eye surgery and laser assisted lens replacement surgery."
Mr Rakesh Jayaswal, Consultant Ophthalmologist
"If you've been battling with your weight for years, 2017 could be the year you take control of your health and your weight. Bariatric surgery is the only proven way to do this with amazing results for your weight, diabetes, sleep apnoea and other health problems."
Mr Nick Carter, Consultant Laparoscopic Upper GI & Bariatric Surgeon
"Heavy periods are a very common problem for many women. There are however simple investigations that can be carried out to determine the cause of this. You don't have to put up with them as treatments are often simple and a specialist can guide you through the options available."
Mr Chris Guyer, Consultant Gynaecologist
"Do you suffer from pins and needles in your hands? Does it cause sleepless nights or affect you while driving or on the phone? You may have a squashed nerve in your wrist known as carpal tunnel syndrome. This common condition can be easily treated with a splint, injection or even an operation. Your GP can help guide you through the different treatment options available."
Mr Phil Sauvé, Consultant Orthopaedic Surgeon
"Of all cancers, skin cancer is increasing most rapidly. It is really important that if you notice a new lesion on your skin you get it checked by a specialist, particularly if it's itching or bleeding."
Dr Stephen Keohane, Consultant Dermatologist
Silver Skiers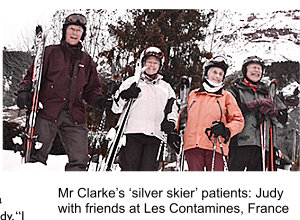 More and more people are taking up skiing and snowboarding and with ski season officially upon us, silver skier Judy Thompson shares her inspirational story.
Judy underwent a second hip operation under the care of Spire Portsmouth Hospital Orthopaedic Consultant, Mr Hugh Clarke almost 2 years ago after suffering from severe pain and immobility.
"It is truly exhausting to try and live a normal life with chronic pain", explains Judy. "I continued working as a GP before my first hip replacement with Mr Clarke and functioned at a fairly basic level, just trying to get through the day. I also found it impossible to sleep, so ordinary living was a huge effort."
Since her hip replacement, Judy's quality of life has improved significantly - not only enabling her to participate in sport, but also allowing her to actively join in during family occasions.
As a medical professional herself, Judy undertook thorough research when it came to choosing a consultant and was happy to recommend Mr Clarke to friends developing hip problems.
"My friends asked me about my experience and the rest, as they say is history! The amazing thing for all of us was the immediate pain relief, and then the challenge of getting our fitness back.
Skiing being a mutual interest of ours, it served as a motivator to get active as soon as possible."
"My husband and I are looking forward to more ski holidays in the New Year - one of them with the whole family including 7 grandchildren…"