"I have felt for quite some time now that my face makes me look older that I actually am! What can I do this year to look as young as I feel? "
Sue, Fareham
Mr Timothy Mellor, Facial Plastic Surgeon practicing at Spire Portsmouth Hospital:
The two main steps you can take to maintain a youthful-looking skin is to protect your face from UV light and to stop smoking.
People who have outdoor hobbies, like sailing or spending a lot of time gardening, may find that their skin ages more quickly. That isn't to say that you shouldn't spend time outdoors, but rather that if you do, protect your face by putting on sun block.
The other thing that can age your skin is smoking as it reduces the amount of oxygenated blood that reaches the tissue, and that reduces the skin's healing potential.
As for more practical things you can do to look your age, I'm afraid there isn't a panacea of an anti-ageing cream. There are some skin products designed by specialists that are proven to be effective to reduce lines and wrinkles, but they can only be prescribed by a doctor.
The product range I mainly work with is Obagi, which can help improve the natural cycle of the skin and give it a more youthful appearance. I often say that when it comes to ageing, we talk about one of two problems. The first is the 'paint or wallpaper' of the face – such as lines, wrinkles or blemishes. These are the things we can treat with skincare products, injections or fillers. I also carry out fat transfers, where I take fat from the tummy or thighs and inject it into the face to give a rounder, smoother and more youthful appearance.
The second problem is with the 'bricks and mortar' of the face – the muscles and soft tissue that tend to droop and drop with age. These concerns could include drooping eye-lids, bags under the eyes or a sagging neck. In these cases we could discuss surgical solutions, such as a facelift or neck lift. Sometimes patients come to me and say they 'need' something doing. I always tell them that nobody 'needs' to do anything to make their face look younger. It is all about choice. The most important thing is that you do what you feel is right for you.
Do you have a health or wellness question for one of our specialist consultants that you would like featured in the next edition? Send your questions to mail@spireportsmouth.com
Mr Timothy Mellor, pictured below, is a facial plastic surgeon practising at Spire Portsmouth Hospital. For more information, please visit www.spireportsmouth.com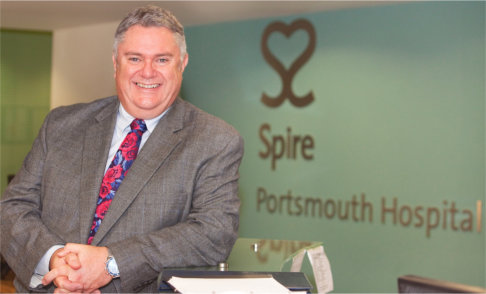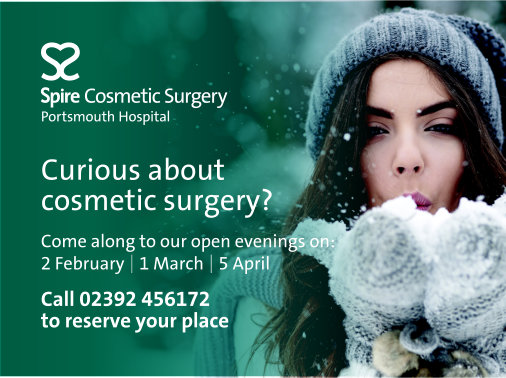 "I lost five stone but my tummy still held me back!"
Despite losing an amazing five stone through a weight-loss programme, there was still something about her body that Charlene Peacham was unhappy about. With two Caesarean scars and an appendix scar, she had a fold which neither diet nor exercise could shift. "I really felt that my tummy was holding me back," Charlene said. She booked a consultation with Mr Jeremy Hurren, Consultant Plastic Surgeon prac-ticing at Spire Portsmouth Hospital. "He made me feel totally at ease, we just clicked," Charlene said. "He was realistic about my build and advised me to continue with my work-out." Booking in for a tummy tuck with Mr Hurren was a great motivation to improve her muscle tone and general health.
The actual procedure only removed 2lb of skin, which in combination with her exercise regime made all the difference.
"I feel a million times better," Charlene said. "My tummy looks the best it has since the day I found out I was pregnant when I was 19!" Charlene Peacham had her tummy tuck with Mr Jeremy Hurren at Spire Ports-mouth Hospital in August 2014.
If you'd like to know more about cosmetic surgery, Spire Portsmouth Hospital hosts a free information evening on the first Tuesday of every month.
Places are limited so call now to reserve your place on 02392 456 172.