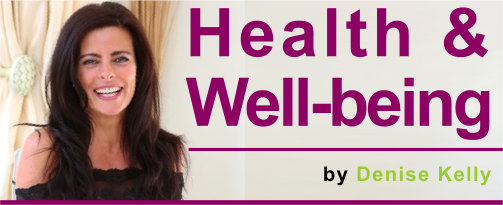 If you haven't tried them yet I would highly recommend you get a packet of Chia seeds in your cupboards for that special ingredient to give you lasting energy and brainpower!
Before I rave about the Chia seeds, I want to introduce myself, as this is a brand new column, which I am very excited about. I write about lots of health related subjects for corporate organizations and another local paper. I have two private clinics, one in Harley Street, London, and one in Bosham, West Sussex. I deliver health talks and stress management seminars all over the place. USA, The Baltics and here in the UK, and see hundreds of clients each week for one to one sessions about all things health! It can range from children to adults with arthritis, cancer, fertility issues, digestive problems etc etc and I totally get a buzz from making people well, with food. It's amazing and I love my job, so feel very lucky. No ailment is too big or small. If it bothers you, and you are tired of popping pills all the time then give me a call, and I can confidently say I will do my best to make you feel well again. However, it will take some dedication on your part, but nothing too hardcore I promise!
Anyway, back to business... I also wanted to share with you an amazing food that gives us lasting energy so we feel like we have that drive to do all those exciting things in our lives. This little bag of power comes in the form of Chia seeds. They originate from the central valleys of Mexico and come from a plant sauce that is reported to have been eaten as the staple food by the Aztecs in pre Columbus times. Chia seeds were regarded as one of the top most important crops to the Aztecs next to maize and beans. These seeds are tasteless and all you need to do is soak them in water over night (One tablespoon in a cup of water and stir). They are quite gloopy when ready and surrounded in a gel type liquid. Everyone can benefit from them including children and seniors citizens because these little gems are one of the most powerful, functional and nutritious super foods in the world!! They have no flavor so you can add them to all your favorite dips, salsas, and sauces and never dilute the flavors you love.
Why… the list is endless but I will try and give you a few benefits!! They regulate your blood sugar levels, which is vital to regulate hormones, lower the risk of diabetes, and give you a constant flow of good energy. Chia seeds are low in calories and retain electrolytes in the body fluids. It is also a brainpower food as it is nature's complete protein, which enhances brainpower, stamina and overall endurance. It contains a balance of Vitamins and Minerals and anti-oxidants which helps prevent free radical damage in the body. By weight Chia has more calcium than whole milk and also contains a large amount of magnesium and boron.
Chia are a rich source of fibre which helps keep food running smoothly in the digestive process which keeps the colon hydrated, (essential for good health) ensuring the easy movement of food. It's also the richest plant source of healthy oil containing more omegas 3 than Salmon, which is vital for brain function, heart and cholesterol health.
In summery Chia seeds are an excellent source of fibre, packed with anti-oxidants, a full protein chain, loaded with vitamins and minerals and the richest plant source of omega 3.
I would recommend them everyday!!
(Sold in most good health stores)
If you would like to chat to me about your own health issues, or book an appointment to come and see me at one of my clinics please give me a call on: 07730671436 or e-mail: info@denisekelly.co.uk. Or visit my website: www.denisekelly.co.uk
Clinic addresses: 1, Harley Street, Marylebone, London. W1G 9QD.
Or The Lindy Griffiths and associates Clinic, Main Road, Bosham, Nr Chichester. P010 8EH.