Free event to relieve anxiety and feelings of isolation during pandemic launched by Diabetes Research and Wellness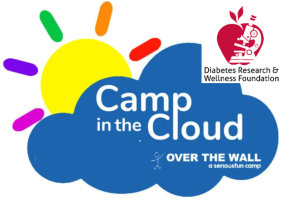 National charity Diabetes Research and Wellness Foundation (DRWF) is throwing a lifeline to families whose children are living with Type 1 Diabetes during the Covid-19 pandemic by inviting them to 'Camp in the Cloud' where they can access the latest help, advice and support in a fun and accessible way. More than nine out of ten children and young people living with diabetes have the Type 1 variety – an auto-immune condition that can't be prevented and is not linked to diet.
"There are over 22,000 young people under the age of seventeen with diabetes in England and Covid-19 has caused great anxiety for them and their families," says DRWF CEO Sarah Tutton. "The vast majority have Type 1 and we have launched a free virtual version of the 'Over The Wall' outdoor residential event with 50 family places released this week for the 2021 programme, scheduled for Saturday 27 March.This camp is only open to those living within England. A second Camp in the Cloud will be hosted on Saturday 16thOctober, which will be open to families resident across the UK ."
DRWF is committed to supporting people living with all types of diabetes to lead as full a life as possible by developing a proactive self-care approach to successful self-management. The charity uses 'staying well until a cure is found' as their platform for all their diabetes wellness events to provide education and support across the country. The charity has seen more than 4,500 people benefit from their events over the past twenty years. Physical events have been postponed since early this year because of the current health situation.
Sarah Tutton explained: "During these difficult times we are pleased to be able to continue to support people living with diabetes through a variety of means. The continuing partnership with Over The Wall means we can also offer this unique family Camp in the Cloud experience to families with at least one child aged up to seventeen living with type 1 diabetes, the whole family will benefit, including other siblings up to the age of seventeen. We've partnered with Over The Wall to provide a virtual version of the popular outdoor event we've held in the past."
Applications opened in December and there are fifty family places available for both camps. Families interested in the camp can apply online at www.otw.org.uk where all the information is available.
The Camp in the Cloud addresses the needs of all the children with the aim of bringing the magic of the residential camps directly into their homes, plus for those families who are unable to attend a physical camp, this Camp in the Cloud offers an amazing opportunity for their children to benefit from the activities and chance to meet other children living with type 1, make friends and have the chance to share experiences and learn.
Camp in the Cloud activity boxes will be delivered to the campers and families with hundreds of children logging on to a bespoke online platform for a fully interactive camp experience