Beauty Buzz: Micellar Water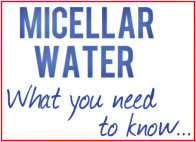 It's in magazines, on TV adverts and popping up in every beauty section on the high-street. So what is micellar water and what does it do?
Micellar lotions/waters/formulas are made up of micelles – tiny oil molecules suspended in water – that cling to impurities (make-up, daily grime) on the skins surface and help to break down and dissolve them. You can use it as a make-up remover, cleanser and as a toner and simply saturate a cotton pad and wipe over your skin. Most are very gentle and can be used on all skin types.
This understated beauty favourite has been used and loved by industry's pro make-up artists for a few decades now and started out on the shelves of pharmacies in France because French women disliked using the harsh Parisian tap water on their skin. Once people started catching on to how versatile and affordable micellar water is, the bigger brands began to take note.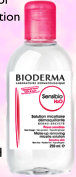 The original and arguably one of the best micellar waters comes from Bioderma, in fact one bottle of its Sensibio H20 Micelle Solution is sold every three seconds around the world and has a big celebrity fan base. An alcohol, fragrance and soap-free formula promises to remove even the most stubborn mascara without affecting the skin's natural pH levels. - £10.50 250ml

For value for money, Garnier Micellar Cleansing Water is a good choice. Like all micellar cleansers, it's gentle enough to use on eyes and lips and is completely perfume free, good for sensitive souls. £4.99 400ml

Lancôme's version is a transparent and high potency water gently that clears the skin of impurities and toxins. It's extremely gentle formula can even be used to remove eye and lips makeup. A good choice for fans of more high end products, a little of the Lancôme Eau Micellaire Douceu goes a long way and works well to freshen tired skin on early mornings. £23.00 200ml

Another high end product is Elemis Smart Cleanse Micellar Water which is a new addition to the Elemis range. This water feels super fresh on the skin. It's infused with rose water which is soothing and hydrating on all skin types - the roses Elemis use are only picked between June and August, when they're at their most aromatic... The formula also contains antioxidant and anti-inflammatory hamomile, rosehip seed oil and Indian soapnut, a natural cleansing agent. £24.00 200ml