It seems to be that our tastes buds change when the sun appears and the weather gets warmer. Its hard work lying out in the sun, relaxing on a Sunday afternoon so the main style of wine we seem to head for are light, fresh and crisp whites and rosé as opposed to the earthy or red berry fruit driven reds.
When I talk about lighter wines I don't necessarily mean lighter in alcohol. It's the style of wine, the flavours and mouthfeel which I tend to refer to more. White wines can still be relatively high in alcohol, 13/14% for example but they can still taste light and fresh, although you may notice the high alcohol effect the next day as opposed to at the time of drinking. It's the same with oaked wines which we spoke about in the last issue. Oak gives wine body and tannin but it also gives wine a sweeter, vanilla character which can sometimes hide the fullness. And don't forget about chilling. This will strip flavour from the wine if you over chill however this can also benefit a wine if it lacks a bit on the flavour part.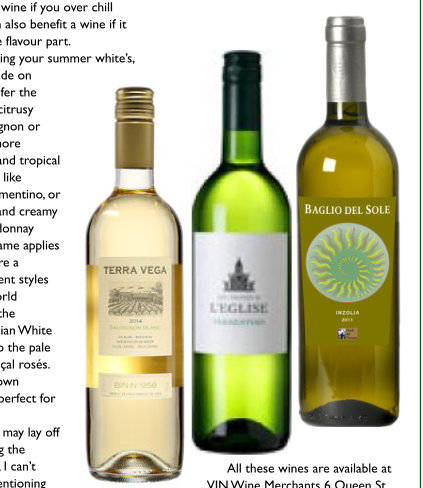 When choosing your summer white's, you need to decide on whether you prefer the crisp, acidic and citrusy grapes like Sauvignon or Chenin, or the more rounded, softer and tropical fruit style grapes like Viognier and Vermentino, or even the vanilla and creamy styles that Chardonnay produces. The same applies to Rosé. There are a number of different styles that the wine world produces. From the sweeter Californian White Zinfandel style to the pale crisp, dry Provençal rosés. Each have their own identity and are perfect for the BBQ.
Although we may lay off reds more during the summer months, I can't leave without mentioning any at all. There is nothing wrong with chilling a lovely soft red like Pinot Noir. It's very refreshing and is a great alternative if you have overkilled on the white wines. But again, don't over chill.
Here are a few of my Summer choices.
Princess Viognier Pays D'Oc – lovely peach characters and other tropical fruits bounce out of the glass. Its dry and fresh and has a long finish. £8.99 (£8.09 if you buy 6 or more)
Les Vignes de L'Eglise Vermentino Pays D'Oc – Slightly fuller than the Viognier but it stills has those wonderful tropical fruit flavours. £8.49 (£7.64 if you buy 6 or more)
Ca Del Lago Inzolia Sicily - You have the best of both styles with this little beauty. Full of tropical fruits like pineapple and banana but balanced with a slight splash of citrus. It's a real bargain. £6.99 or 2 for £12.
Terra Vega Sauvignon Blanc Chile – crisp and fresh with a smoother and delicate citrus character. It has a more balanced acidity level so you don't feel as though you are sucking a lemon. £9.99 (£8.99 if you buy 6 or more).
All these wines are available at VIN Wine Merchants 6 Queen St Emsworth 01243 698838. You can come and taste a whole range of wines every Saturday and Sunday. Open Tuesday – Saturday 10am – 7pm and Sunday 10am – 2pm. www.vinwinemerchants.co.uk
By
Jonathan Rogers of VIN Wine Merchants