Jonathan Rogers of The Solent Wine Experience looks at English sparkling wines
The Sparkling wines we are making here in the UK seems to go from strength to strength. Its popularity is on the increase, not to mention the awards the various producers are winning. Last year sales doubled that of 2010 to £6million with a record 2014 harvest, and this is set to continue. But can this rapid growth survive? Two years ago I attended a seminar at the International Wine Trade Fair in London and listened to one key producer who answered that very same question, a question which has been in my mind for sometime.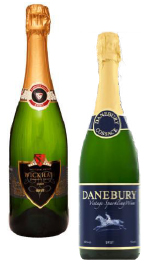 Frazer Thompson, CEO of Chapel Down, warned that the industry cannot sustain this growth and that the price point of English fizz needs to be addressed. I agree totally with what he says. Some English fizz are priced at the £25-£30 price point which is more than some Champagnes, but these English producers do not have the big budgets that the Champagne houses do. Frazer Thompson also mentioned that consolidation of some vineyards was on the horizon in order to just survive. We have already seen Three Choirs Vineyard purchase Wickham Vineyard, a move I see as eliminating some of the competition. Three Choirs have spent close to a £1million on turning Wickham Vineyard into a wedding venue, on top of the £1.2 million they spent on purchasing the site, stopping all wine production completely.
Investment has been raised to research and develop an identity for English fizz. Some industry professionals are calling for a 'name' that defines English fizz. At present it is simply called English Sparkling Wine, a name I personally cannot see a problem with, but there is too much comparison going on with Champagne. We all know that Champagne is called Champagne because it is produced in that region. In England we do not have the same regional differences they have in France. Bordeaux, Burgundy etc. England is a region as a whole and most producers do name the county from which the grapes come from on their labels. However most producers also purchase grapes from all over the country and unless 85% of the grapes come from one county then they cannot label it as wine from Hampshire or wine from Kent etc. Some other leading industry figures have also expressed a wish for the EU to allow us to call our fizz Champagne. Gordon Ramsay is one of them. He recently started selling some English fizz in his new restaurant in Bordeaux, a move that will do only wonders for our wines, but at the same time he said that maybe the French should start to allow us to call our sparkling wine Champagne. I ask the question why? We do not need to copy or compete with
Champagne. The Champagne houses have been doing this for hundreds of years and we need to build our own identity for our
quality wines as they did. The quicker we stop comparing our sparkling wine to Champagne, the quicker we will grow. To be
honest, we should be more concerned over the rise of Prosecco.
Have your say on this. Send your comments to me at thesolentwinex@gmail.com
Here are a few great English bubblies, all from our own county.
Danebury Vineyard Cossack Brut
£18.99 – The General Wine Company (Petersfield 01730 235923 Liphook 01428 727744) - Notes of brioche and citrus characters. A fine mousse (fizz) with a lasting finish.
Meonhill Reserve Brut
£23.74 – The General Wine Company - Classic fruit aromas with a fresh delicate finish. Made by Didier Pearson, an award winning
Champagne producer.
Hambledon Vineyard Classic Cuvee
£27.54 – The General Wine Company Very floral with yeasty and biscuit characters. Perfect balance of acidity and fruit on the finish.
Wickham Vineyard Premier Cuvee Brut
£24.99 (special offer £18.99)
- email -
wilhelm.wickhamwinesales@gmail.com
Made at Wickham before it was sold so only few bottles remain. It has a beautiful elegance to it with a fine mousse, green apple characters and a yeasty finish. Get it while you can.
To learn more about English wines and the wines of the world my Five Week Wine Course starts Monday 9th November at Tuppenny Barn near Emsworth. Visit www.thesolentwineexperience.co.uk for details.