Jonathan Rogers from The Solent Wine Experience/VIN Wine Merchants looks at this age old practice.
Around fifteen or so years ago, wines with heavy oak ageing were all the rage, and us consumers were loving them. It seemed to be a fashionable thing, to drink wines that had been fermented or aged in oak, just like drinking Prosecco or Pinot Grigio is now.
The use of oak in wine making has been around for at least two millennia, first coming into prominent use by the Romans. They first used oak barrels for transportation but it soon became clear to them the various differences it gave to the wine often making it taste better. Today wine makers use oak to alter the various properties of wine, including colour and taste.
The distinctive flavours it adds to the wine include vanilla and tannin. Although tannin is not an actual flavour of wine, it can be attributed to the sense of touch, giving a rough sensation on your tongue and the inside of your cheeks. Tannin will give body to the wine making them fuller although this can sometimes be hidden by the sweeter flavours oak also gives to the wine. It will round off the acidity levels creating a softer wine with more depth.
During the 60's the famous Californian producer Robert Mondavi experimented more with oak and more winemakers began to follow his examples. Heavily oaked Chardonnay began to pour out of California during the subsequent decades and this is what we were all enjoying during the nineties.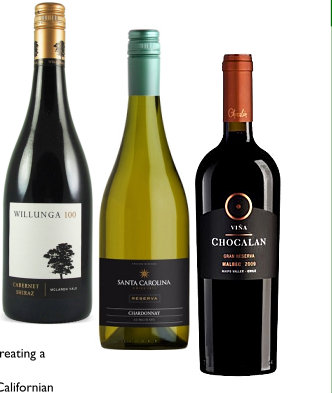 The majority of the wine producing world use oak, more so in regions such as Rioja in Spain where it is law. Labels with the term 'Reserva' or Gran 'Reserva' will indicate oak ageing in both red and whites and the length of time the wine stays inside the barrels can be anything up to 12 months and beyond in some regions.
Nowadays it seems that the crisper whites with more acidity are in favour with Sauvignon Blanc, particularly from New Zealand, the grape of the moment. Only certain white grapes benefit from oak and Sauvignon Blanc is not one of them. Our tastes do change and it seems that at the moment the vanilla, creamy whites are out of favour. Having said that, they are still amazing wines.
Here are a few from my brand new, shiny wine shop in Emsworth:
Santa Carolina Reserva Chardonnay
£10.99 Chlie - From the famous Chilean producer, loads of tropical fruit flavours including melon and peach.
Vina Chocalan Gran Reserva Carmenere £13.49 Chile - Intense berry fruit flavours with a spicy, long finish.
Willunga 100 Cabernet Shiraz £12.99 Australia - Cherries and plums dominate with a spicy finish.
All with 10% discount when you buy six or more from VIN Wine Merchants, 6 Queen St Emsworth PO10 7BL - 01243 698838