I'm writing this article still in the depths of our winter chill in February, but while the ice is on the car I can't be anything but cheery at the thought of warm spring days sipping on a nice chilled white or a glass of fizz. It doesn't seem that long ago that I was recommending big bold heavy reds to warm us up but now we can look forward to the warmth and joys of spring and the lighter more refreshing wines.
On warm days we automatically think of crisp whites and fresh rose wines that we can drink quite happily without the need for food. However, a lot of wines are now arriving on our shelves which are creeping up in alcohol and quite a few of us are finding these too much. When I first started in the trade some 26 years ago, the standard alcohol was around the 11%, nowadays, it's not unusual to have wines coming in at 14.5%.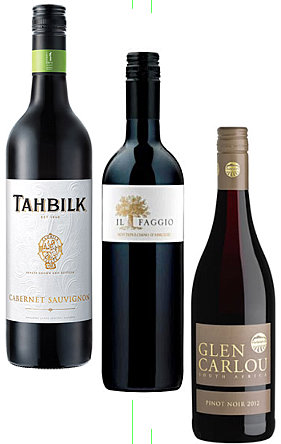 If you prefer the lighter style, then stay away from heavily oaked reds and whites. A lot of the tannin in wine (the rough sensation on the tongue and cheeks) comes from the oak barrels, and this is what adds the body in wine. However, oak also adds sweeter fruit characters, especially vanilla, which gives the wine softness and takes away the acidity.
The coming of spring also means the arrival of Easter and time again to think about feasting. Lamb is the common choice for Easter Sunday and choosing the right wine to have with it will take your meal to the next level. Generally, I tend to recommend lighter reds, but that's only because I prefer to have a nice pink joint of lamb. If this is your preference then pick the Pinot Noir grape which produces soft, round, fruity and elegant wines. Burgundy in France is the home of Pinot, but generally I haven't had a bad example from anywhere. If you enjoy your lamb a bit more well done, then upgrade in body to balance the heavier flavours of the meat. Here I'm thinking of Australian Cabernet which has the weight but as its warmer climate you will get more fruit driven characters. If you want less fruit, then go Italian with a Montepulciano D'Abruzzo or a Primitivo from the Puglia region (the heel of the boot). Although these wines will pair nicely with the lamb, as I always say to everyone, wine is meant to be enjoyed so drink whatever you want with your meals, you will still enjoy it!
Glen Carlou Pinot Noir South Africa £13.99
Light and fruity with loads of flavour and elegance.
Tahbilk Cabernet Sauvignon Nagambie Lakes, Victoria Australia £14.99
Blackcurrant fruit with a hint of mint and loads on the finish.
Il Faggio Montepulciano D'Abruzzo Italy £9.49
Extremely popular, well balanced with earthy characters intertwined with fruit. My best selling red under £10.
A Mano Primitivo Puglia Italy £9.99
The Primitivo grape is also known as Zinfandel in California where it produces spicy rich wines. Here its more rounded and elegant. Again, hugely popular.
To learn about wine and food pairing or wines in general our wine school The Solent Wine Experience runs Five Week Evening Wine Courses and One Day Wine Experiences which includes lunch and a Vineyard tour. For more details and dates you can call the shop on 01243 698838, check the website www.thesolentwineexperience.co.uk
By
Jonathan Rogers of VIN Wine Merchants in Emsworth