January Wine Cut Backs (price not quality).
Jonathan Rogers of VIN Wine Merchants in Emsworth offers some bargain wines for the New Year.
We all know that December can be an expensive month. The money we spend on the high street buying gifts for our friends and family seems to increase year after year. Not to mention the amount spent on extra food, goodies we would not normally eat during the rest of the year. The same can be said for wine and other bottled delights. How much Baileys do we drink at Christmas compared with other months? Sherry sales also increase as Grandmas' around the country enjoy a few extra glasses. We also spend that little bit more on wine as we treat ourselves to something special for the festive lunch. Christmas is a time for treating ourselves and others, and why not? We work hard the whole year so we deserve it.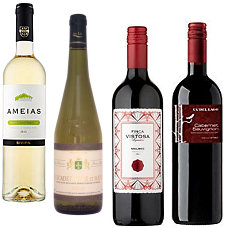 But then January arrives. The holidays and festivities go and the office and hard work arrive once more. It's this time when we have to tighten our belts a little and revert back to our normal eating and drinking habits. But that does not mean we have to drink cheaper wines which are of lesser quality. On an average priced bottle of wine the tax makes up 52% of the overall price. With this in mind, finding bargain bottles should in theory be difficult. 'What makes a bargain wine a bargain?' It's a question I often get asked along with 'is a wine that cost £50 significantly better than a wine that cost £5?' The answer I usually give is if you like the wine then it's a good wine, no matter what you paid for it. Wine is all about personal preference. It's good to go for different styles and explore different wines but we generally know what styles we like. A high price tag of a wine does not reflect the overall cost of producing that wine. The main reason is the rarity value of it and the name. Most of these wines for example Lafite, Cheval Blanc, Mouton Rothschild and Romanée Conti are all in very small production and high demand, especially in good years.
Wine shipped in bulk is booming at the moment. These wines are shipped from the country of origin usually the further regions like Chile or Australia, in huge tanks and then bottled in Europe. It's far cheaper for the producers to do it this way as they are not having the cost of bottles, closures, labels etc and obviously the cost of shipping by the bottle. This is picked up by the shipper and these savings are passed onto us. I will be increasing my bulk wines shipments in 2017 as I believe the quality of wine is there along with the bargain price tag. Something else I will be focussing on in 2017 is shipping wines myself. Cutting out the middle man also saves a few pennies plus you will be able to buy wine which is exclusive to VIN.
Here are a few wines that won't break the bank and still great quality.
Manuel Abreau Blanco – Portugal £7.99
Lovely and soft with fruity hints and a rounded finish.
Muscadet Brevin – Loire £7.99
This ever brilliant white from the Loire has a fresh crisp character with a lingering finish.
Anakena Sauvignon Blanc – Chile £5.99
Light and crisp dry white with zingy acidity and grapefruit and citrus hints.
Vistosa Malbec – Argentina £5.99
Light and fruity red with a soft rounded finish.
Ca' Del Lago Cabernet Sauvignon – Italy £6.99
Hugely popular and great at this price. Packed with blackcurrant fruit.
All available at VIN Wine Merchants 6 Queen St Emsworth PO10 7BL.
Wine Courses are available throughout 2017. Please contact Jonathan on 01243 698838 for details and dates.