There was a time when Irish beer meant only one type of beer and that beer was Guinness, the famous Irish stout. Guinness is still very popular in Ireland and stout accounts for around a third of all Irish beer sales. In Ireland you can also try stout made by Murphy's and Beamish. Both these brewers are now owned by Dutch brewers Heineken. Murphy's stout is widely available in Ireland and the UK but Beamish stout is now only sold in Ireland.
The rather bland international lagers have 60% of the Irish market with ales only recently becoming popular. This was due to the fact that Ireland did not have a Real (Cask Conditioned) Ale culture. Over the last 10 years the craft beer revolution, which started in the USA, has arrived in Ireland which now has over 70 small independent breweries.
If you are an Irish brewer you can look west to the USA and try to emulate some of their stronger, heavily hopped styles. Or you could look east to England and try and brew English cask beer styles. Alternatively you could look at improving on traditional Irish stouts and Red Ales. I have recently been sent some samples of Irish beers from two leading Irish craft brewers; Dungarvan Brewing and Eight Degrees Brewing. Their beers show that Irish brewers can hold their own on the worlds brewing stage. I was very impressed and would suggest, if you are planning a trip to Ireland, to ask for local beers rather than the ubiquitous Guinness.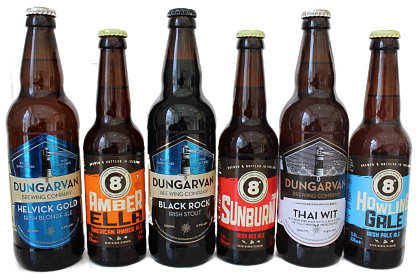 Dungarvan Brewing Company were founded in 2009 in the southern coastal town of Dugarvan in County Waterford. They specialise in traditional, bottled conditioned beers. They brew cask, keg and bottled beers at their 6 barrel plant. They offer a wide range of beers including stout, blonde, Red, American Pale Ale, Rye, Gluten free, Barley wine and Saison. Visits to the brewery are possible by appointment. http://dungarvanbrewingcompany.com
Eight Degrees were founded in 2010 in Mitchelstown, County Cork. The name Eight Degrees comes from the fact that Ireland's longitude is eight degrees west. They brew Pilsner, Red Ale, Pale Ale, Stout, IPA and some specialised beers. Eight Degrees beer are exported to several different countries. http://www.eightdegrees.ie/
Eight Degrees Amber Ella American Amber Ale 5.8% abv.
This copper coloured beer has a tangerine and pine aroma. It is a big beer with a powerful taste which has been influenced by heavily hopped US styles of beer. Burnt toffee and citrus flavours are prominent. This is quite a strong beer which can be enjoyed on its own or perhaps with grilled pork or sausages.
Dungarvan Helvick Gold Irish Blonde Ale 4% abv.
Blonde or Golden Ales are an English style of beer which was developed to offer a choice between bland lagers and traditional bitter ales. It pours a dark golden colour with a lemony aroma. I think this would make a perfect summer ale as it is very refreshing with a lemon flavour coming through. It is not too citrusy and could be the right beer to go with a curry. The beer is named after Helvick Head which is a spectacular cliff near Dungarvan.
Eight Degrees Sunburn Irish Red Ale 5% abv.
This take on a traditional Irish beer is made from barley and wheat. It pours a copper colour and has a caramel aroma. It is a beautifully balances beer with toffee malt and bitter orange flavours coming through. Irish Red Ales had become obsolete by the 1950s but have recently been rediscovered and are not dissimilar from traditional English Bitters.
Dungarvan Black Rock Irish Stout 4.3% abv.
The test of any Irish brewer is can they make a decent stout? Dungarvan have excelled with this full flavoured beer which has a wonderful vanilla and roasted malt aroma with complex dark chocolate, expresso coffee, aniseed and vanilla flavours.
This is a much smoother, rounded, more flavoursome stout than I have tried, especially those brewed by larger firms. This would go well with shellfish or just on its own, whilst watching the sun set over the Irish hills.
Eight Degrees Howling Gale Irish Pale Ale 5% abv.
This beer is brewed from barley and wheat. It has a pleasing amber colour with a slightly grape-fruity aroma. It is a well-balanced beer, lacking the astringency of some US style Pale ales. This is another easy drinking beer which would go well with Thai food or other spicy dishes.
Dungarvan Thai Wit Wheat Beer 6.4% abv.
We normally associate wheat (Wit) beers with Belgium or Germany. A few British craft brewers have had a go at this style but generally craft breweries stick to American or British styles. Dungarvan are to be commended for their ingenuity in crafting this most original beer. The label states that the beer is brewed with: wheat, barley, palm sugar, kaffir lime leaves, coriander, cardamom, lemon grass and galangal, a type of Thai ginger. The beer pours a cloudy amber colour and has a banana and sweet spice aroma. It is much spicier than Belgian wheat beers which are often flavoured with orange peel and coriander. The taste is complex with floral and spicy flavours coming through. This beer would go really well with a Thai curry.

Marston's have taken over the brewing concerns of Bedford brewers, Charles Wells. Wells, in turn bought out London brewers Young's in 2006. Marston's now control several former independent brewers including: Ringwood, Wychwood, Jennings, Brakspear's and Banks. Marston's are best known for their Pedigree Pale Ale.
Pubs are less likely to be knocked down or turned into Convenience stores following a change in planning law. Property owners must now submit a planning application if they wish to demolish a pub or request a change of use to retail.
Alcohol consumption in the UK has fallen by 20% since 2004. Many more young people do not drink at all.
If you enjoyed my article on coffee beers (Postcode July/Aug) you might want to attend the Uppers and Downers Coffee Beer Festival. This event will be held in London on Wed 13 Sept 2017 (6 pm -10 pm) For more info: http://goodbeerhunting.com/events/2017/5/23/sept-13th-uppers-downers-fe…