Beef or Venison Wellington Recipe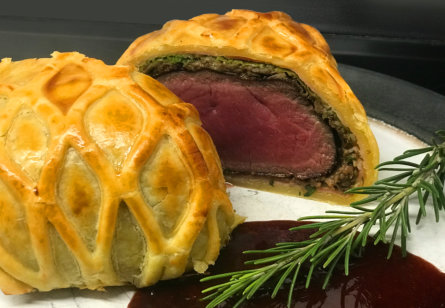 Beef or Venison Wellington is a delicious seasonal dish which uses the finest cut (fillet of beef or venison loin) and pairs it with wild mushrooms and prosciutto, wrapped in puff pastry. You can make individual portions which can be prepared the day before, perfect for Christmas Eve or New Year's Eve.
Serves 2
Ingredients:
Venison Loin or Beef Fillet – 400g
Prosciutto – 6 slices
Puff Pastry – 200g
Butter – 25g
125g Chestnut Mushrooms chopped, or Dried porcini Mushroom – 25g
1 x Shallot – finely chopped
1 x Sprig of thyme
1 Egg yoke – beaten
Method:
Soak the chopped, dried wild mushrooms in hot water for 20 minutes.
Season the venison loin and sear all sides for a minute in a hot frying pan, put aside to cool.
In the same frying pan, sweat the shallots before adding sprig of thyme and the soaked mushrooms with the liquid and reduce to a thick sauce or duxelle. Remove from the heat and cool.
On a sheet of cling film, put down a layer of prosciutto with each piece overlapping, then place half the duxelle over the prosciutto and add the venison on top. Add the remaining duxelle over the top of the venison and roll the whole thing into a large sausage, twisting the ends of the clingfilm until it is tight. Place in the fridge overnight or while you prepare the pastry.
Roll out the puff pastry into a layer large enough to envelop the venison parcels. Brush with egg, place the unwrapped venison loin in the centre and close the pastry parcel.
Place on a tray with baking paper, brush with egg wash and score.
Roast in a pre-heated oven at 180 °C for 20 minutes or until the pastry is golden brown for medium rare.
Serve with seasonal veg and a reduced red wine gravy.
Alternatively you can buy a pre-made Venison or Beef Wellington for Christmas along with all your Christmas turkey, meats, veg and cheese at Stansted Park Farm Shop.  www.stanstedfarmshop.com