NHS Grocery Boxes, Early Asparagus, Lamb Tagine, Local Leaves & Updated Delivery Boxes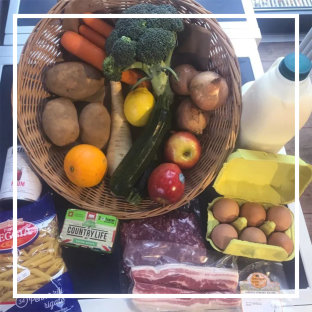 Dear Reader
As the impact of Coronavirus is felt by everyone, affecting lives and livelihoods, it can be reassuring to know that the season's continue, the bluebells are in full bloom and fresh, healthy local produce springs up again. This week we have the first of the season's asparagus, Isle of wight tomatoes, and a load of leaves including Alresford watercress, pea shoots, spinach, and rocket.
We get our asparagus direct from the Davey's farm in Rogate, As a result it's often picked that morning, and is sweet and delicious. It's available as part of this week's Grocery Box (along with watercress and salad) or you can buy 3 bunches and a pot of Hollandaise for £8.50
The local watercress is superb and matched perfectly with a couple of fillets of Hampshire trout. These can be pan-fried, poached or wrapped in a foil parcel with herbs and some white wine.
We have created a Lamb tagine box that will give you 4 large portions with a half shoulder of local lamb (1.5kg), a jar of tagine sauce, a box of barley couscous for £19.95. You have the option of making a spiced shepherds pie with any of the leftovers.
Our grocery box has been changed, giving you a selection of salads alongside basic fruit, veg, bread, milk, cheese, butter, meat and eggs, while the steak box has 8 different steaks this week for £45.
With the majority of us in self-isolation, we hope that some fresh local produce comes as a welcome distraction. Asparagus is the start, with lots of wonderful seasonal fruit and veg to come.
As a reminder, the shop is open with social distancing in place from Tuesday to Sunday 10am - 4pm. You can also order any of our boxes online for click and collect, allowing 24 hours to get your order together. We are also delivering to Chichester, Stoughton, Walderton and Emsworth on Thursdays and to Havant and Rowlands Castle on Fridays for those who cannot leave the house. We take orders until Wednesday at 12 noon for delivery the same week.
Finally we have set up a support box for NHS staff so that you can donate fresh produce to local hospitals. This project was set up by some local Sussex mums who will come and pick up groceries from the farm shop and deliver it directly to various hospitals. You can find more information here, but this is a great way to be able to help our amazing NHS staff.
Stay safe and take care,
Fred, Sam, and the Farm Shop Team