The Joys of Purple Sprouting Broccoli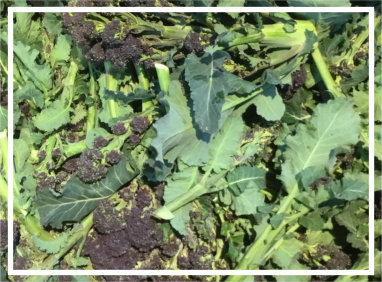 Purple Sprouting Broccoli is locally grown and in season from February to April. It is nutritious, full of iron and vitamins, and excellent value. But best of all, it's delicious and deserves to take center stage on the plate, grilled with a poached egg on top.
You can eat the whole lot, leaves and purple sprouts, but you may need to trim any larger woody stems before cooking. You can steam, boil, stir fry or roast it and it's ready to eat with a squirt of lemon juice, melted butter and a bit of seasoning.
However, it goes extremely well with another seasonal specials: duck eggs. Duck eggs are larger than hen eggs and the yolk is proportionally bigger, more orange and richer than the chicken equivalent. This is a simple, but luxurious way to enjoy both.
Purple Sprouting Broccoli with Duck Egg and Bacon. Serves 2.
Thinly slice 4 rashers of Sandridge Streaky bacon into mini-lardons and fry until crispy, then drain on kitchen roll.
Meanwhile, place 400g of evenly cut purple sprouting broccoli (PSB) into a roasting tray and drizzle with olive oil. Add a generous pinch of sea salt and roll until lightly covered. Then roast in a hot oven (180°C) until the leaves just start to get crispy (about 6 minutes).
Alternatively you can steam the PSB until tender. Then add the bacon and put on two plates.
Poach two duck eggs (3-4 minutes) and place on top of the PSB, then season and add shavings of Parmesan.