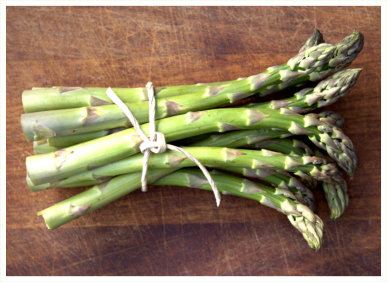 The British Asparagus season is in full swing, but it's only for 6-8 weeks, so you need to take advantage to enjoy asparagus at it's finest. We source our asparagus directly from the Davy's Farm near Rogate and it's often picked the same day it arrives in the shop and is fantastic value.
Local asparagus tastes better because it is fresher. The moment you pick asparagus, the natural sugars start turning to starch, so if it has been flown from Peru, it simply won't taste the same as asparagus picked the day before from your local farm.
Asparagus is versatile and can be eaten raw, steamed, boiled or grilled, and is especially good off the BBQ.
Asparagus is the harbinger of the British fruit and veg season, and this recipe for Asparagus and Goat's cheese quiche summons the fresh, clean taste of Spring. We use Hampshire based Beau Farm Goats cheese brie in this recipe.
ASPARAGUS AND GOAT CHEESE QUICHE
Prep Time: 10 minutes
Cook Time: 55 minutes
Total Time: 1 hour 5 minutes
INGREDIENTS
1 (9in.) Pie Crust – unbaked (You can use the pre made version, or make your own)
10 spears of Asparagus
1/2 onion – diced
2 tbsp butter
1/4 tsp salt
Pinch of black pepper
4 eggs
1/2 cup cream
1 cup milk
1/2 cup goat cheese, crumbled
1 tsp lemon zest
RECIEPE
Heat oven to 200°C
Line a 9 in. pie pan with the dough, then carefully cover the pie dough with tin foil and fill with dried beans or rice. Bake in oven for 10 minutes.
Meanwhile, break off the woody ends of the asparagus and throw them away. Cut the asparagus into 1 inch pieces.
In a medium saucepan, sauté the onion and asparagus in the butter until onion is translucent.
In a medium bowl whisk together the eggs, cream, milk, goats cheese, salt, pepper, and lemon zest. Stir in the asparagus mixture.
Reduce the heat on the oven to 150°C. Remove the tinfoil from the pie crust and pour the egg mixture into the shell. Bake for 50-55 minutes, or until the centre has risen and is slightly golden brown.
Remove from oven and let cool slightly before serving.