Stansted Shin of Beef Stew
This is a simple, satisfying and delicious dish that can be added to depending on what ingredients you have available. The trick is to make sure you know which cut of beef to use. I would ask the butcher for beef shin to create a stew that is rich, melt in the mouth and bursting with flavour. It cannot be beaten – especially at this time of year when the cold and the damp starts to get in the bones.
I always avoid pre-packed "stewing beef" as you have no idea which joint it has come from. Usually it is a mix of off cuts so that some will cook quicker than other bits. Shin is particularly tough and you cannot cook it quickly. It requires hours of gentle cooking to turn the meat into rich, full flavoured tenderness. It is worth the wait.
You can add diced carrot, celery, parsnip or mushrooms, depending on what you have in stock. I also like to add a bit of heat with a chilli or hot sauce. Whole cloves of garlic and strips of orange rind is another winner, depending on your preference.
Preparation Time: 15 minutes
Cooking Time: 180-220 minutes
Servings: 6
Ingredients
1kg beef shin
1 tbsp plain flour
1 tsp mustard powder
30g/1 tbsp beef dripping (or vegetable oil)
3 onions, peeled and diced large
4 carrots, peeled and cut into 3-4 chunks each
1 swede/turnip, peeled and cubed
1 celery stalk, chopped
1 bay leaf & herbs
500ml stock, stout or water
Sea salt and black pepper, to taste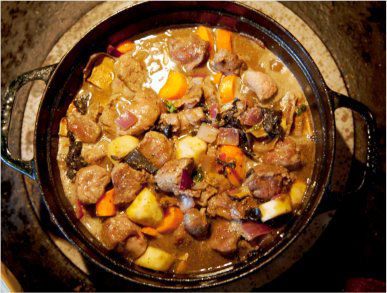 Method
The basic recipe is to dust the diced shin in the flour and mustard, brown in the a heavy bottomed pot in small batches over a high heat and remove. Add the chopped vegetables to brown then return the meat to the pot, cover with a decent stock and/or wine or stout, along with your herbs (bay leaf, peppercorns, rosemary or thyme). Bring to the boil before placing in a low oven (160°C) to cook for at least 3 hours, until the meat is tender.
This is a great way to feed a group as it can be prepared and cooked in advance as it tastes better the next day. It's ideal for the weekend, with any extra for a mighty fine midweek meal.