Wine Trends for 2019
Wine is sometimes like the fashion industry, we have certain wines that are fashionable to drink but then eventually they fall out of favour. For example, thirty years ago when I first started in the wine trade, we were drinking nothing but Chardonnay. It became a brand name in itself and we could not get enough of it. Ten years later Pinot Grigio became the 'in thing' to drink, then Prosecco etc. Our tastes change and different styles become popular. Each year the wine trade looks towards wines that will feature heavily in both restaurants and on the high street, so I have decided to share with you a couple of the main trending wines.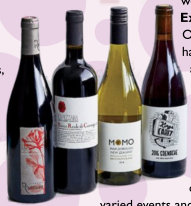 Organic/ Biodynamic and Natural wines
These wines are not new, they have been around for a long time but with the rise in popularity with veganism over the last year or so, natural wines are both popular with the producers as well as the consumers. Natural wines require minimal intervention in terms of chemicals used in the vineyard and in the wine making, in other words Sustainable Wine-making. This includes conservation of water, reduction of greenhouse gasses, high soil maintenance and minimal use of fertilizers. Where organic and Biodynamic wine making will fall into this category, natural wines will also consider vegan and vegetarian as well as reducing the amount of SO2 or even eradicating it all together. Fining agents are used to clarify the wine, and this is where the vegetarian and vegan aspect will be considered. Certain animal extracts can be used including isinglass which comes from a Sturgeon, egg whites and gelatine. More use of things like bentonite, a clay- based powder and pea protein are being used more now to produced vegan/vegetarian friendly wines.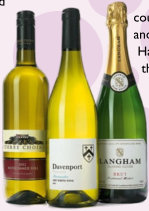 English Wines
This sector has seen a steady growth year on for the last five years or so and there are clear signs that this will continue. Our sparkling wines have gained a massive following not just for the intrigue factor but for the quality factor. Overseas exports are increasing which will add to the popularity and the name and our home sales will rise dramatically this year whatever happens with Brexit.
Cremant sparkling wines
French fizz, outside of the Champagne region, which are commonly known as Cremant (Cremant D'Alsace, Cremant de Bourgogne etc), have seen a huge increase in popularity over the last year and will get bigger. They are made in the same way as Champagne, i.e. bottled fermented and the quality is superb with a quality price to match. Typically costing around the £15/£20 mark you are getting the best of both worlds.
Experiences
Our thirst for knowledge has increased dramatically as we turn our attention to learning about wines, experiencing vineyards and attending tastings and dinners. This is a big area for VIN and one I will be focussing on this year with more varied events and tastings.
Recent research has shown that we want more memories and experience different things rather than just buying 'stuff' and wine tourism is one of those experiences that has seen an increase in popularity.
Keep a look out for new wines heading to VIN this year and here are a couple of things to whet your appetite.
Wine Experience Days – wine course with tasting, two course lunch and a guided tour and tasting of Hambledon Vineyard - £89 pp throughout the year.
A Laurance Brut – sparkling wine Southern France £14.99
Classic soft yeasty characters with a rounded dry finish. Very fine and great value.
By
Jonathan Rogers of VIN Wine Merchants Emsworth