Spain Value and Qaulity
Jonathan looks at the value end of Spain's wine producing regions.
When we talk about Spanish wines we mainly think of Rioja, arguably Spain's most important wine producing region. However, the rest of Spain produces some fantastic wines which won't cost you the earth.
Spain is now enjoying huge growth on the international market particularly due to the quality of its entry level wines and low production costs. Another major factor in its popularity growth is the fact that many producers are now turning to Spain's indigenous advantages and traditional wine making practices. The native grape varieties are once again being favoured by many of the producers. Climate, on the other hand can be problematic. The extremely hot summers and long sunshine hours can cause the vines to shut down and stop the grapes from ripening so gaining sufficient sugar levels before the harvest can issue difficulties. Since 2003 irrigation has been permitted but only on individual cases and most producers prefer not to pay the huge costs to install it.
The largest of Spain's wine producing region is La Mancha situated in the middle of the country next to Madrid. It is bigger than all of Australia's wine regions put together, and is the largest continuous vine growing region in the world with around 500,000 acres of vineyards. The main grape variety used here for reds is Tempranillo along with Grenache, but international varieties are also making waves such as Cabernet, Merlot and Shiraz. For whites, the Airen grape dominates, but again the more recognised varieties such as Sauvignon and Chardonnay are also grown.
More known for growing oranges then grapes, Valencia is now producing wines of quality and value. This DO situated further south then La Mancha, was established in the late 50's has around 13,000ha under vine with around 101 wineries with the majority being co-operatives. These co-operatives now employ much more professional and skilled managers then they traditionally did in previous years meaning the wines now are much better in quality while still maintaining that affordable price point.
Try these!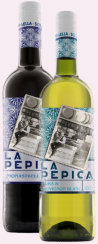 La Pepica DO Valencia £8.99 red and white.
Produced from Grenache, Shiraz and Monastrell grapes it has a smooth soft rounded character with a hint of oak. The white is a blend of Sauvignon blanc and Airen grapes. Much lighter than a straight Sauvignon blanc and with a touch more fruit.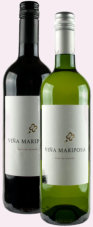 Vina Mariposa Vino de Espana red and white £7.99 (two for £14)
These two wines are perfect for everyday drinking. The red is made from Tempranillo and is light and soft with loads of red berry fruit characters and the white is crisp and rounded with a touch of tropical fruit flavours. Both are 11% alcohol making them great drinking on their own or with tapas and paella.
VIN wines are open throughout lock down 10am – 6pm Mon – Sat however we are also offering a FREE LOCAL DELIVERY service on 6 bottles or more. 10% discount is also applied on 6 bottles or more.