My Special New Year's Eve Wine Selection
There is a danger that by the time New Year arrives some of us feel a little exhausted down to hard work and maybe a little over indulgence in the food and drink department over the festive period. Some of us like to go out to an organised event so we don't have to do the work ourselves, some are happy with organising an evening for friends and family, and some feel its just perfect to stay in with our loved ones for a romantic evening. A New Year's Eve like this often gives us an opportunity to maybe splash out a bit on some extra special dishes, and more importantly, some extra special wines, so, with this in mind, I have put together some of my own personal favourites which I sell in the shop that will make your quiet, romantic New Year celebration even more special.
Barrel Select Roussanne – Languedoc £15.99 – a beautifully rich and rounded white, dry but without the crisp acidity. Its has a lovely honey character with peachy and tropical fruit flavours. If you are after something a little drier than pick up a bottle of Spice Route Chenin Blanc from South Africa - £11.99. Its has a fresh citrus character with balanced acidity and a long finish.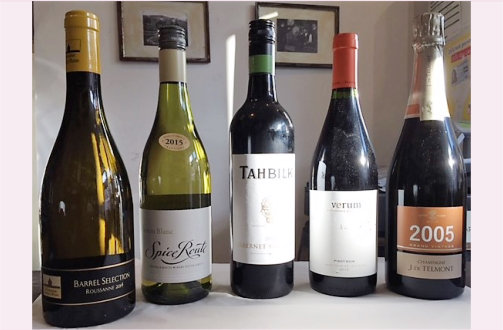 If you like your reds to be full bodied then I have Tahbilk Cabernet Sauvignon from Victoria, Australia at £16.99. Its has all the classic black currant fruit with a slight minty character with a rich aftertaste. If you want something more elegant and soft than my Verum Pinot Noir from Patagonia Argentina at £17.00 is the perfect choice. Elegant, velvety and soft rounded fruit, this wine will make the evening.
You can't have a New Year's Eve without the bubbles. Its best to start and finish the night with fizz and as it's just the two of you I have picked a couple of beauties. There are some amazing fizz's out there, not just from Champagne. England has many quality examples now as well as other areas of France. I'm sticking with Champagne though for the start of the evening because by the time you get to midnight you may have had enough, and this needs to be savoured and enjoyed. Telmont Vintage 2005 at £37.99 is simply amazing. A good vintage Champagne under £40 is quite difficult to buy and this one is all about quality. A rich yeasty character with a biscuit finish and balanced acidity. If you fancy trying something other than Champagne, then I have a Blanc de Blancs (Chardonnay) from Simpsons of Servian in the Languedoc at £18.99. Made by an English couple in France this has a drier character but still possesses a rich and creamy finish.
Off course we have a varied selection of many quality wines and we are happy to advise you on a particular region or country or if you are having a particular dish. If you wish to learn more about wines, we are running our Five Week Wine Course £75pp, Wine Experience Days at £89pp which includes lunch at Fat Olives and a guided tour and tasting of Hambledon Vineyard and our Cheese and Wine tastings £12pp.
I would like to thank everybody for your custom and supporting local independents this last year and look forward to seeing you all again next year.
HAPPY NEW YEAR
By:
Jonathan Rogers of VIN Wine Merchants Emsworth