One of the themes of my beer column has been the fact that beer is an extremely diverse drink offering many different taste experiences. Wheat beers, stouts, golden beers and traditional bitter ales all provide a very wide range of flavours to the discerning drinker. Yet 74.8% of all beer consumed in the UK is lager with ales making up only 20.8% and stouts 4.4%. (BBPA 2015) It has not always been this way with lager only making up 7% of beer sales in 1970, climbing to 51% by 1990 and remaining steady around 74% for the last few years.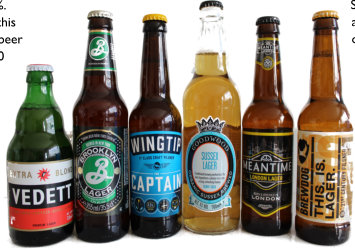 Lager has been around for a long time and was first brewed in the UK in Wrexham in 1881 but never really caught on in a big way. When Britain went to war with Germany in 1914 there was a backlash against Germanic products and lager went out of favour until it was slowly reintroduced again in the 1960's. The very first lagers were brewed in 1842 in the town of Pilsen in what is now the Czech Republic. The term lager refers to the brewing process rather than the actual drink. Lagers are bottom fermented at a lower temperature than ales and are then stored before being distributed. The word lager actually means storeroom in German. Lagers don't have to be pale and can come in a variety of colours including black, depending on the type of barley used.
I have been around our local supermarkets and have selected a few of what seem to be better quality lagers, that is beers that are brewed by smaller breweries using only barley, hops , yeast and water. Many big name lagers use what are known as adjuncts, such as rice or maize in the brewing process. These are cheaper than barley and may contribute to a pale colour but at the expense of taste.
Wingtip The Captain 1st Class Pilsner 4.5% abv
The Captain Pilsner is brewed for Wingtip by Andwell Brewery who are based near Hook in the north of Hampshire. Andwell started brewing in 2008 and have a 20 barrel plant supplying over 200 outlets. The Captain 1st Class Pilsner pours a dark golden colour and has a grassy, floral aroma with a distinct dry bitterness coming from the use of Czech Saaz and German Tettnang hops. This is a very fine lager which would appeal to an ale drinker seeking a refreshing yet flavoursome beer. I don't know why more small British breweries have not tried to brew their own lagers.
Vedett Extra Blond Premium Lager 5% abv
Vedett is brewed by Duvel Moorgaat in Puurs, near Antwerp, Belgium. It was first brewed in 1945. Vedett pours a pale gold and has a toasty aroma. It is brewed using Saaz and Styrian Golding hops. This is a smooth dry drink which is typical of Belgian pale lagers.
Meantime London Lager 4.5% abv
Meantime are London craft brewers who started in 2000. They produce a wide variety of beers and also own a brewpub in Greenwich. Meantime were taken over by global giants AB-Inbev in 2015, who have in turn sold the Meantime brand to Japanese brewers Asahi. London Lager is made with Kent hops and East Anglian barley. It is a darker gold colour with a hoppy aroma and is a dry bitter tasting beer.
Brewdog This.Is.Lager. 21st century Pilsner 4.7% abv
Described on the bottle as an uncompromising bold and irreverent beer. Brewdog started brewing in Scotland in 2007 and now own around 30 bars in the UK and several other countries. This.Is.Lager is brewed with Hallertauer Hersbrucker, Saaz, and Columbus hops. It has quite a bite to it and does stand out from the blander industrial lagers. It pours a pale golden colour with a floral aroma.
Brooklyn Lager. 5.2% abv
Brewed in Brooklyn, New York this is a Vienna style lager which is based on the type of beer available in the USA prior to Prohibition. It is a copper coloured beer with a very citrus, hoppy flavoursome taste. This is almost halfway between a lager and pale ale in terms of taste and appearance. It is hopped with Hallertauer Mittelfrueh, and Cascade Hops.
Goodwood Lager 5% abv
This lager in brewed by Hepworth's of Horsham for Goodwood Home Farm on the Goodwood estate using their own barley and organic hops. It pours a golden yellow with a floral toasty aroma. This has quite a sweet, yeasty, bready flavour and is not as astringent as many lagers. An easy drinking lager.
Local Publications If you are interested in the history of pubs and breweries in the Havant area then I would commend to you a new series of Local History pamphlets written by Steve Jones and edited by Ralph Cousins. The following publications are available from the Spring Arts and Heritage Centre, East Street, Havant. They are all well written and illustrated with many rare photos.
Malting and Brewing in Havant £4
Inns of Rowlands Castle £6
Inns, Public houses and Breweries of Bedhampton £4
Havant's Inns, Posting Houses and Public Houses £6
Public Houses of Waterlooville £6
By
David Harris, Member of the British Guild of Beer Writers